Return to Headlines
Attendance campaign pushes on with student, family rewards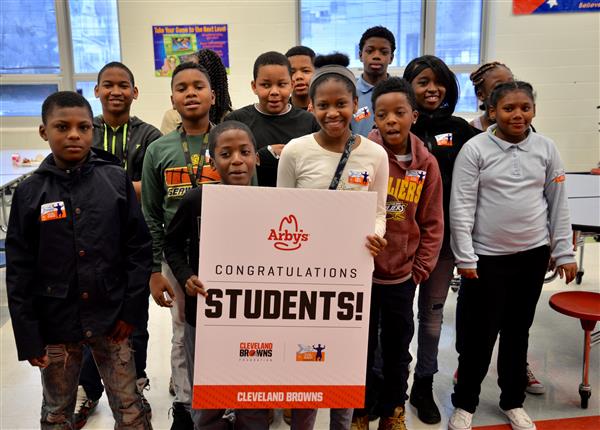 CMSD NEWS BUREAU
12/12/2016
CMSD's campaign to improve student attendance is rolling on, with schools hosting events and rewarding students who have made strides in attendance.
The District's "Get 2 School. You Can Make It!" initiative was successful last year in reducing chronic absenteeism -- a nationwide problem -- by 6 percent and inspiring a culture change that persists this year. That change was evident in several schools Friday.
Wilbur Wright K-8 school, near West 117th Street and Lorain Avenue, was buzzing with excitement and school spirit Friday morning at an schoolwide rally to celebrate gains in student attendance. The assembly included attendance-themed performances from the cheerleading squad and testimonials from students and parents about the importance of getting to school as often as possible.
Administrators planned the rally not only to celebrate a 10.8 percent jump in attendance in a one-week period but also to encourage daily attendance as cold, snowy weather arrives. They reminded students and staff about CMSD data that shows that students who miss 10 or more days in a year score an average of 12 points lower on state reading tests and 15 points lower on state math tests, are 9 percent less likely to meet Ohio's Third Grade Reading Guarantee and are 34 percent less likely to graduate.
Assistant Principal Kelvin Holland discussed recent efforts made by the school's attendance committee, which is made up of administrators, teachers and parents. The committee set goals to increase attendance from 91 percent to 97 percent and to decrease the number of students who miss 10 or more days by 50 percent by the end of the school year.
"We can improve attendance by establishing meaningful relationships with parents and students that foster good attendance practices," Holland said. "We want to show our students that we care about them missing school."
The committee also came up with a set of weekly, monthly and quarterly rewards for students with perfect attendance, including candy and gift card giveaways, ice cream socials, movie days and open-gym events.
At Daniel E. Morgan School, near East 89th Street and Superior Avenue, one sixth-grade class was treated to sandwiches and curly fries from Arby's after they earned the highest attendance of any class in the District on a "You Can Make It Day" last month. The lunches were provided through a partnership with the Cleveland Browns Foundation, the leading partner in the attendance campaign.
Principal Dessie Sanders said the winning class had 95 percent student attendance the day after Thanksgiving break, a day when many students could be tempted to stay home to extend their vacation.
Sanders and her staff have emphasized the attendance initiative through a variety of tactics, including other incentives such as dress-down days and ice cream parties. Her team has also focused on engaging families of students who are frequently absent through home visits and phone calls -- strategies used widely across the District.
Sanders wants to increase Daniel E. Morgan's average attendance rate from 90 to 93 percent by the end of the school year.
Case School, at East 40th Street and Superior Avenue, took 115 students and their parents to Playhouse Square on Friday.
Students who had perfect attendance in the first quarter earned a field trip to the Cleveland Play House's performance of "A Christmas Story." The same students will have the opportunity to visit the A Christmas Story House and museum in Cleveland's Tremont neighborhood if they have attended school every day until winter break, Principal Brandie Carson-Jones saud. They also will get to watch the movie version of "A Christmas Story."
Evidence of the school's attendance campaign could also be seen throughout the school, where some students wore yellow polos or blue sweatshirts with the school logo in place of their uniform shirts -- a special privilege for students who had perfect or improved attendance. Carson-Jones said even younger students are responding to these strategies and understand the meaning of the rewards.
The principal said she also makes it a priority to keep teachers and parents focused on attendance. Carson-Jones gives her staff a dress-down day for every week when student attendance is 93 percent or higher and sends out a weekly bulletin to report the results. The school also holds midyear and end-of-the-year banquets for parents of students whose attendance improves significantly over time.
"Parents are an important part of getting students to school every day and on time, so we want to recognize them," Carson-Jones said.