Return to Headlines
Safety and security promotes officers, welcomes new deputy chief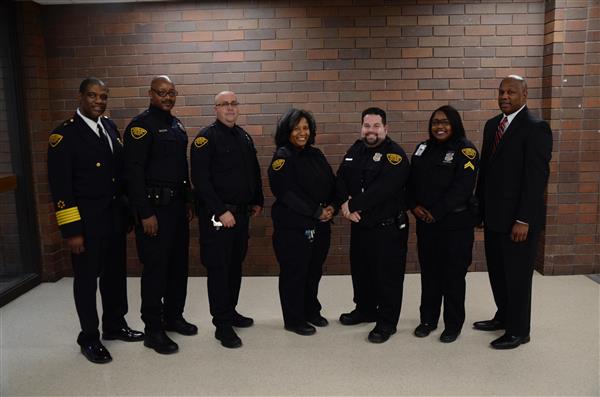 CMSD NEWS BUREAU
12/20/2016
The CMSD Division of Safety and Security has welcomed a new deputy chief to its ranks and promoted several officers to leadership positions.
The officers were honored Monday during a ceremony led by CMSD Chief Lester Fultz at the District's East Professional Center.
The role of deputy chief, left open by a retirement, will be filled by Dennis Hill, who worked in the Cleveland Police Department for nearly 29 years, most recently as commander of the Fifth District.
Hill grew up in Cleveland and attended two now-closed CMSD schools, Henry W. Longfellow and Margaret Spellacy. He said he looks forward to the opportunity to work with District students and to continue the strong collaborative relationship between District and city police.
"I see this as an opportunity to serve and ensure the safety and well-being of our city's children," Hill said.
The chief also announced that field service officer Serena Ellis was promoted to sergeant. Ellis started working for CMSD in 1999 as a customer service representative and later became a security officer.
The Division also promoted four officers to corporals: mobile patrol unit officers Johnny Sturdivant and Michael Onesky and security officers Jorge Rosario and Aretha Jones.
Fultz ended the ceremony with a reminder that these new leadership roles come with greater responsibility in serving all CMSD students.
"The real sign of a good leader is what you do for the 39,000 kids who we come to work for every day," the chief said.
See the gallery below for more photos from the ceremony.