Return to Headlines
Principals academy forming new class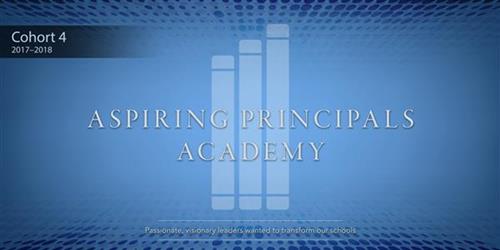 CMSD NEWS BUREAU
1/20/2017
CMSD is assembling a new class for its
Aspiring Principals Academy,
a challenging training ground for a challenging job.
The pipeline program is in keeping with
The Cleveland Plan
's call for providing students and families with the best in leadership. Ten Aspiring Principals are chosen to serve a year alongside a mentor principal who assigns them leadership duties and guides their development. The position pays $75,000, plus benefits but requires a commitment to stay with CMSD for five years.
Educators interested in applying for the residency program -- and a chance to eventually lead their own CMSD school -- can learn more at one of three information sessions. The sessions will be held at 3:30 p.m. Feb. 1, 4:30 p.m. Feb. 15 and 5 p.m. March 7, all at the East Professional Center, 1349 E. 79th St.
Learn more and apply
. The application deadline is April 28.
"The graduates of the academy are making a difference as leaders in our school district, putting structures and systems in place that have raised student achievement and increased enrollment," said Heather Grant, who is in charge of the academy and new principal support. "We look for strong candidates who want to make a dramatic impact in the Cleveland schools."
The academy's fourth class will begin its year on June 26 with a five-week "summer intensive," or boot camp, that requires the residents to respond to simulated situations at a fictitious school based on data from an actual District building. Graduates say "intensive" is a fitting description.
Michelle Perez remains with the academy's third cohort but had already proved capable enough that she was selected to serve as interim principal of the
Cleveland School of Science and Medicine
. Founding Principal Ed Weber was recently named superintendent of the Wellington schools in Lorain County.
Perez had taught high school English since 2003, all of that time with the District, but wanted the challenge of leading her own building. She said the academy is great preparation for what is universally regarded as CMSD's toughest and most critical leadership role.
"The academy is one of the hardest things I have ever done in my life, including getting my master's degree," said Perez, who values the curriculum's emphasis on promoting social justice and making sure every child receives a quality education. "I feel incredibly lucky to have had this experience."
Bolton School
Principal Juliet King, who completed the academy last year, said that when situations arise now, she knows instantly how to respond.
"I think every principal should go through the program," said King, who previously worked 15 years for CMSD as a physical science, engineering and biology teacher. "I don't think I would have made it if I didn't have this foundation laid out."
The first two classes provided identical numbers: Six residents became principals, two landed other administrative positions and two did not finish.
The current school year's class began with eight women and two men chosen from 124 applicants. Five of the 10 are from Ohio; the others came from New York, Oklahoma, Tennessee and Florida. Four previously taught for CMSD and two more were District graduates.
CMSD developed the program with guidance from the
NYC Leadership Academy
, which was founded in New York City in 2003 and now serves clients across the United States.