Return to Headlines
Savings roll in with new buses
CMSD NEWS BUREAU
4/21/2017
CMSD has saved hundreds of thousands of dollars in fuel and maintenance costs since replacing the majority of its bus fleet more than three years ago.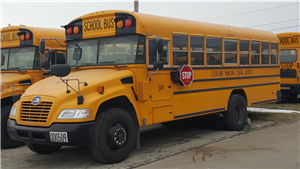 In December 2013, the Board of Education voted to lease, and eventually buy, 225 buses – 176 powered by diesel fuel and 49 by propane.
Most of the buses in use at the time were an average of 12 to 13 years old and had logged more than 150,000 miles. The District was unable to update the fleet until after voters approved an operating levy – the first in 16 years -- in 2012.
In the 2012-13 school year, the District spent more than $2.6 million on parts, Eric Taylor, executive director of transportation, told the Board of Education during a recent presentation. By last school year, that cost had shrunk by 75 percent to $659,326.
By using propane and constructing a fueling station, the District also saved on fuel costs. Fuel bills fell from more than $2.1 million in 2012-13 to less than $1.3 million in 2015-16.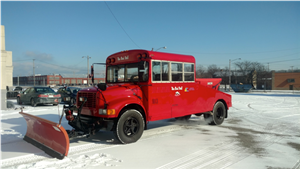 The board leased the buses for seven years and agreed to buy the vehicles at the end of the term. The total cost will be $17.9 million.
CMSD kept 65 older buses as spares. Two body mechanics have chopped and converted three of the older buses into snowplows that are now used to clear bus parking lots. That saves the expense of hiring a contractor at $27,000 a year.