Return to Headlines
Browns to break ground for John Adams field
CMSD NEWS BUREAU
5/15/2017
The Cleveland Browns, CMSD and the city will break ground at 1:30 p.m. Tuesday for installation of a synthetic-turf football field at John Adams High School.
The field is the fourth of five that the team is donating to the District. The Browns installed fields last year at James Ford Rhodes, Bump Taylor and Roye Kidd stadiums.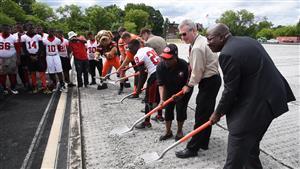 Senate League football teams share the fields, as do school soccer and Cleveland Muny Football League teams and the community.
Browns' owners Dee and Jimmy Haslam have made the donation as part of their efforts to make an impact in the community through education, as well as youth football. They said they were inspired by CMSD Chief Executive Officer Eric Gordon's belief that participation in extracurricular activities motivates students to study harder and graduate.
John Adams' field and the remaining field, at the John Marshall Campus, will be completed in time for this year's Senate football season.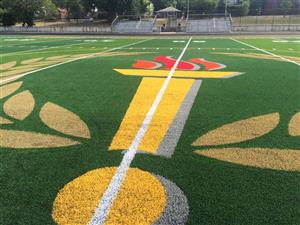 The Browns also will pay to level ground at John Adams, which currently has no football field, and to demolish a concrete granstand at John Marshall.
The grandstand must be demolished to to fit the field on the site, according to Gary Sautter, CMSD's deputy chief of capital programs. He added that the grandstand is deteriorating and needs improvements to create access for the disabled.
CMSD will install bleachers at John Adams and John Marshall, paying a combined cost not to exceed $750,000. CEO Gordon has said money could be raised in the community to eventually build stadiums.