Return to Headlines
Enrollment in high-quality preschool up 50%
CMSD NEWS BUREAU
6/14/2017
PRE4CLE has helped to increase the number of Cleveland children enrolled in high-quality preschool by 50 percent since the provider network was founded in 2014, according to the
organization's annual report
.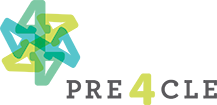 The network, a partnership between CMSD and private operators, seeks to give all of the city's 3- and 4-year-olds access to high-quality preschool. The goal is to prepare them for kindergarten and success in school.
As of December, 4,277 Cleveland children were enrolled in high-quality preschools, defined as those earning at least three of the possible five stars on the state's voluntary
Step Up to Quality
rating system.
The number of children attending high-quality sites represented 60 percent of those in preschool in the city but totaled only 36 percent of the preschool-age population.
"It's a big leap from where we started, but we still have a long way to go," said Katie Kelly, PRE4CLE's executive director.
PRE4CLE markets high-quality preschool to families and works with providers to help them earn high ratings. CMSD is a key part of the network, accounting for 61 of the 111 preschool sites.
The network has created 2,358 high-quality preschool seats in its first two years, including 1,361 existing seats that earned the required ratings. The other seats are new.
The additions were partially offset by the closing of seven high-quality preschools and the loss of more than 250 seats, mostly because of problems with aging facilities.
Also, 335 federally funded Head Start seats were converted from half-day to full day, so one child now occupies a slot formerly shared by two. Despite the net decrease, Kelly praised the shift to a full-day program.
Kelly said PRE4CLE is proud of the progress reflected in the report.
For example, sampling during the year found that nearly half of children in high-quality preschool had demonstrated meaningful progress on school readiness assessments.
And the supply of high-quality preschool seats has increased in 22 of 33 Cleveland neighborhoods since the network was formed. Sixteen neighborhoods can serve at least half of their children, up from 11 in 2014.
"There's expansion across the city, real deep expansion in several neighborhoods," Kelly said. "Parents no longer have to travel miles to get to a quality preschool."
PRE4CLE hopes to raise the number of children enrolled in high-quality preschool to 40 percent by next June, 45 percent by June 2019 and 50 percent by June 2020. The network is trying to accelerate the addition of high-quality seats by providing preschools with intensive training, technical assistance and help in purchasing curriculum and other materials.
For its first three years, the network secured $8.7 million in public funding and $2.2 million from philanthropy.
The report calls for finding a sustainable source of revenue. Kelly said the network also wants to enlist public and private partners to help renovate and build space for preschools.
Expanding access to high-quality preschool is one of the many initiatives spelled out in
The Cleveland Plan
, a customized blueprint for education reform in the city.