Return to Headlines
Robert H. Jamison welcomes international visitors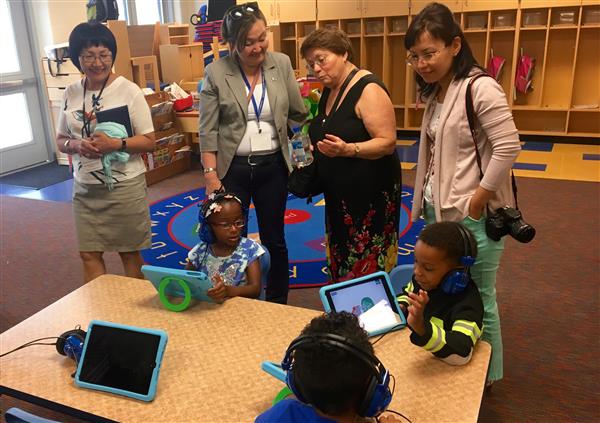 CMSD NEWS BUREAU
6/23/2017
A group of library directors and specialists from Central Asia stopped by a CMSD school on Thursday to see how the District uses technology and libraries in education.
Five public library directors and one university library official from the Kazakhstan visited Robert H. Jamison School to chat with District leaders about library strategies and see classrooms in action during summer school. The trip was part of the U.S. Department of State's "American Libraries" initiative and International Visitor Leadership Program.
The State Department connected with the
Cleveland Council on World Affairs
, which sent its international visitors program associate, Andrew Kovach, to accompany the group on its Cleveland library tour.
The delegation included:
Darikha Dyussibayeva, director of the Scientific Library at Kostanai University

Aigul Krymkulova, deputy director of the Baishev Universal Scientific Library

Bakhytzhan Orazaliyev, director of the Scientific Library, L.N. Gumilyov Eurasian National University

Bibigul Shagiyeva, deputy director of the Cultural Department at Pushkin East Kazakhstan Regional Library

Sholpan Shakhmetova, director of the Scientific Library at S. Toraigyrov Pavlodar Regional University Library

Navira Timirgaliyeva, leading specialist of the Book Storage Department and American corners coordinator at West Kazakhstan Regional Library for Children and Youth
In Jamison's media center, the delegates met with some of the academic directors who coordinated the District's Elementary Summer Reading Academy, which helps K-3 students get on track to meet Ohio's Third Grade Reading Guarantee. In the six-week program, the students move around in classrooms to four stations where teachers use intervention strategies, books and technology to get them up to speed.
The lessons are partly computer-based with instructional elements that use both desktop computers and iPads. On the iPads, students have access not only to literacy programs like Imagine Learning, which offers interactive reading lessons, but also have entire libraries of books at their fingertips.
Speaking to District officials with the help of a Russian translator, the delegates said they were intrigued to see how teachers used the small-group instruction model and integrated technology.
On a classroom tour, several delegates said it seemed unusual that there were so many adults in each classroom helping the students. CMSD Director of Early Childhood Education Nicole Vitale told them that these were college students from Cleveland State University's education program. Through a partnership with CSU, education students help tutor and guide individual students so the teacher can focus on overall reading instruction, Vitale said.
Back in the media center, which houses a computer lab and the library, the visitors asked District officials about the roles that media specialists fill at schools. CMSD Deputy Chief of Curriculum and Instruction Karen Thompson explained that these employees act as both librarians and media experts, providing high-quality and diverse print, video and electronic resources to support instruction and lifelong learning for students and staff.
Thompson also said it's sometimes challenging to find qualified media specialists at a time when both schools and librarians are trying to keep up with technological advancements while still appreciating the educational value of books.
Part of the purpose of the visit was to show the delegates examples of successful libraries and reading programs that they could implement in their communities. The group shared similarities and differences between school libraries in CMSD and those in Kazakhstan.
"One of the things we found that was very different is that their libraries only house texts related to their curriculum," Thompson said. "They were surprised that we have a lot of fiction, nonfiction and a variety of other texts along with those related to classroom content."
Jamison was one stop on a whirlwind three-day visit to Northeast Ohio, which also took them to the Case Western Reserve University Kelvin Smith Library, Kent State University's School of Library and Information Science, Cleveland State University Michael Schwartz Library, the Special Libraries Association of Cleveland and the Cleveland Public Library.
Thompson said the visit was a valuable opportunity for her and colleagues to share ideas about libraries and learning across cultures.
"Any time you have an opportunity to talk to other groups, whether its within the country or out of the country, you learn something and you see where you have commonalities and differences," she said.