Return to Headlines
State superintendent applauds Cleveland Plan progress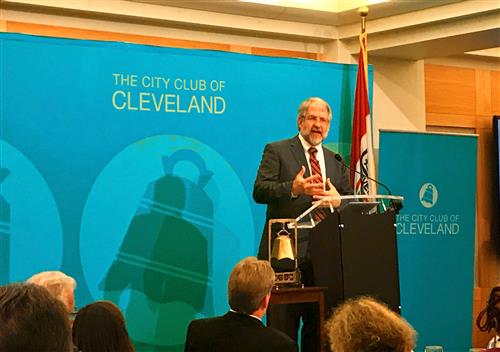 CMSD NEWS BUREAU
7/18/2017
Ohio's state superintendent Paulo DeMaria calls himself a "cheerleader" for CMSD.
DeMaria, whose role in the Ohio Department of Education is to support the state's 3,600 public schools and over 1.6 million students, visited the City Club of Cleveland last week to lay out some of the successes and challenges in Ohio's public schools. In Cleveland, he said, things are looking up.
"There's so much energy around education and supporting the children of Cleveland," DeMaria said to a packed audience. "The partnerships you have are so powerful, and the collaboration is so inspiring. You're setting a great example for all of us."
DeMaria said he has visited at least three CMSD schools -- most recently, Ginn Academy.
DeMaria called the District a national leader in social and emotional learning, efforts to teach children how to manage their emotions and build healthy relationships. CMSD has been recognized as a trailblazer in this area by the prestigious Aspen Institute's National Commission on Social, Emotional and Academic Development, which visited in May to study CMSD's SEL practices.
"My first exposure to effective practices in social and emotional learning was right here in Cleveland," DeMaria said. "The more I see what you're doing, the more impressed I am."
The state superintendent commended CMSD's practice of surveying students about whether they feel safe, supported and challenged in their schools. These surveys, called conditions for learning surveys, are administered twice each year and help administrators make informed decisions about school climate and culture.
In the area of academics, DeMaria said he was impressed with CMSD's variety of high school choices that give students the opportunity to gain skills to prepare them for college and careers. He singled out Lincoln-West School of Science and Health, which has its own wing of classrooms and labs at MetroHealth hospital, as an excellent way for students to explore jobs in the hospital and healthcare industries.
DeMaria's support for CMSD extends from his familiarity with The Cleveland Plan for school reform and his past experiences working with CEO Eric Gordon.
"I attribute to Eric's leadership my understanding of the idea that we need to focus on ensuring every school is an excellent school," he said.
DeMaria also listed some indicators of the District's improvements since The Cleveland Plan was set in motion in 2012, including reduced chronic absenteeism, fewer graduates who need math or English remediation in college and improved National Assessment of Educational Progress test scores.
DeMaria said community support and collaboration is what seems to be making The Cleveland Plan work.
"The most promising thing is it brought together a lot of different people," he said. "So many times, somebody comes up with a plan, but it's in isolation. The fact that the community embraced it and now partially owns the implementation of it -- that's its greatest strength."
Lastly, he expressed excitement about the possibility of CMSD becoming a chapter of
Say Yes to Education
, a national nonprofit that works with communities to prepare their students for college and careers and helps them cover shortfalls in tuition costs. The District is in the midst of the
screening process
to become the site of the fourth chapter.
"It's a testament to what you've already accomplished and your continued vision and passion for what education in Cleveland can become," DeMaria said.