Return to Headlines
Web Corps turns John Marshall IT students into web developers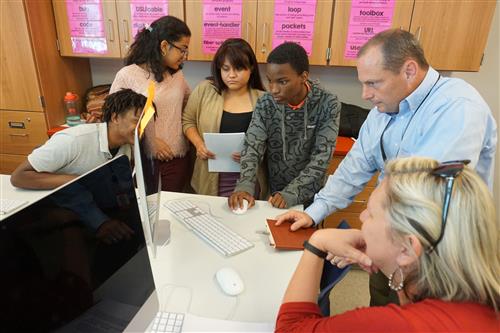 KeyBank employees worked with John Marshall School of IT students as they
designed and developed their own websites in the Web Corps program.
CMSD NEWS BUREAU
8/3/2017
"Here they are Cleveland - your next generation of coders!" reads a recent Twitter post from Lisa M. Chambers.
Chambers is the director of the nonprofit Tech Corps, and she was referring to John Marshall School of Information Technology students who had just completed Web Corps, a six-week web development and career preparation program.
Seventeen John Marshall IT juniors and seniors put in about 25 hours each week in five-hour shifts this summer as they learned how to design websites while getting a taste of what it's like to work in a professional environment. The students were paid an hourly wage through the Youth Opportunities Unlimited program.
But this wasn't an ordinary summer job. Near the end of the program, the teens were using web development terms like "modules" and "header" like professionals. And in a way, they were professionals.
They learned the HTML, XHTML and CSS markup languages from instructors at Tech Corps, a Columbus-based organization that develops technology programs and deploys tech-savvy instructors to help schools prepare students for college and careers.

The students also received guidance from employees in KeyBank's information technology department who served as mentors for the summer, meeting with the students every Thursday to offer their expertise and answer questions. Tech Corps partnered with KeyBank to bring this program to a Northeast Ohio school for the first time.
The goal was for students to code, design, build and present a professional-looking website for a made-up small business, organization or cause. But mastering the technology was only one aspect of Web Corps, which also embeds career skills in its approach.
For instance, each student took on the role of leader, designer, head developer or content manager. The instructors and mentors assigned students their roles after reviewing their resumes -- which students learned how to create during the program -- and conducting interviews.
John Marshall IT senior Katie Ayala said the program was an eye-opener on what to expect when she enters the workforce.
"This has been a really good experience because I've never had a job before," she said. "I think that having to wake up early, clocking in and out, getting my work done on time and keeping up with all my responsibilities prepared me for when I get a job."
Katie was also pleased that she, like the rest of the cohort, received college credit for her participation.
Chris Rice, one of the KeyBank mentors, brought his own expertise from his job as a strategy and design specialist for the bank's online and mobile banking applications. He helped students design the site for their imaginary company, Learn the World.
It was the students who came up with the idea for Learn the World, a subscription service for people who can't afford to travel but still want to experience the world to some degree. The company would send subscribers a different box each month with food, clothing, information and other souvenirs from a certain country so the subscriber could get a sense of the culture without actually traveling there.
The students did the bulk of the work, even switching their design four times until they landed on one that satisfied them, Rice said.
"They have done a great job -- much better than I would generally expect juniors and seniors to do with website design," he said.
Most of the coding instruction came from Tech Corps instructors in the first three weeks. The KeyBank mentors were there to offer support and guidance based on their real-world experience. The mentors often exchanged emails with the students on the days they weren't at John Marshall IT.
Despite the emphasis on website and computer skills, Rice said the most important part for students is learning what employers will expect of them in a business environment.
"Chances are, by the time they get in to their careers, the technology will be different," he said. "But you have to be able to communicate, work well as a team and figure out how to form a consensus on four or five different opinions."
Building connections with employees at KeyBank, one of Cleveland's largest employers, comes with its own set of benefits. The employees gave students information about internship opportunities and even invited them to the office for a day of shadowing, an offer that one student took up almost immediately.
Some students are already using their new skills in meaningful ways. Senior Lionel Patterson's team helped him build a website for an initiative, Learning My Fundamentals, that he and two friends started. Their goal is to teach children in Cleveland to code as a way to engage them in a productive activity and keep them away from gang violence.
While Lionel was already well-versed in coding prior to Web Corps, it hadn't occurred to him to start a website to recruit children for his workshops.
"I grew up around gangs, and I see how bad they can get, so I want to help younger kids get away from it and teach them a useful skill," he said.
Lionel was already committed to helping develop Cleveland's next generation of coders. But after Web Corps, he has more tools to make it happen.
Check out the students' websites below: