Return to Headlines
Three new models start the school year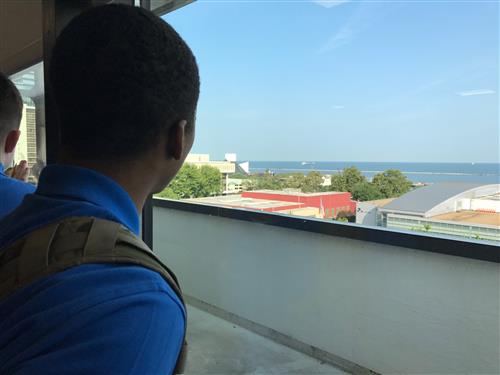 A student at the new Davis Aerospace and Maritime High School takes in the view from the school's space on Lakeside Avenue.
CMSD NEWS BUREAU
8/9/2017
CMSD's new Campus International High School is open, with leaders who are determined to build on the tradition and values of a like-minded feeder school.
Campus and two other new high school models -- Rhodes College and Career Academy and Davis Aerospace and Maritime -- began classes Wednesday. Ten schools got under way earlier, and those that remain will resume classes on Monday.
Many of Campus International High School's inaugural ninth-graders were among the first to graduate from the award-winning Campus International K-8. The District operates the two schools in partnership with Cleveland State University, and both have homes downtown on CSU property.
Like the K-8, the high school will follow the International Baccalaureate model and encourage children to be inquisitive, responsible and caring citizens of the world. Principal Ameer Kim El-Mallawany hopes to also duplicate the K-8's sense of family and community.
"We are continuing a very successful program," said El-Mallawany, a Pepper Pike native who formerly served as director of transformation for seven "high needs" public schools in Los Angeles. "We are making sure we establish that same feel the elementary has and are doing it with the kids as partners."
El-Mallawany and Assistant Principal Amy Brodsky are launching a rigorous IB program that will offer open admissions and encompass an entire urban high school. El-Mallawany said the spirit of inclusiveness has made opening the school "the most exciting project I have ever been involved with."
The high school has about 90 ninth-graders and is working to reach its goal of 120. The enrollment is a mix of students from nearly 40 private, charter and traditional public schools.
The school's first, partial week will bring the students together in team-building activities, a scavenger hunt that acquaints them with the CSU campus and community service projects.
Tahjanaie previously attended a CMSD school on the city's East Side. Her first day was only a few hours old, but she already felt comfortable in her new surroundings.
"It's small," she said. "It's easy for me to learn."
First-year math teacher Bethany Hruschak, a Cleveland State graduate, likes having the opportunity to help shape the program.
"I'm getting in on the ground floor," she said. "We've created everything, and it will evolve over time. It's cool to be part of that."
Campus International K-8 opened in 2010 with kindergarten through second grade.
The K-8 also has open admissions but reserves a fifth of the seats for the children of CSU employees and full-time students. The popular school fills slots by lottery every year and puts other students on a waiting list.
The Council of the Great City Colleges of Education, made up of college deans who work with urban school leaders, last year presented the District and CSU with the Dr. Shirley S. Schwartz Urban Education Impact Award. The award honors a partnership between a university and an urban school district that has had a "positive and significant impact on student learning."
University professors and education students help out at Campus International K-8 and gain professional development.
But the school is not the university's laboratory. CMSD teachers write the curriculum. And any research that CSU conducts is based on suggestions from school staff and typically delves into classroom practices that can be applied across the District.
"One of the goals is to help other Cleveland schools benefit from the things we are doing here," Principal Julie Beers said. "Things that could be replicated at little or no cost."
The K-8 formerly occupied two bulidings – CSU's Cole Center, at East 30th Street and Chester Avenue, and church space at East 30th and Euclid Avenue.
Starting this year, CMSD is consolidating the school in a new four-story structure that the District built on land leased from the university. The high school opened in the church space but will move to the Cole Center in January after the District finishes extensive improvements.
At Rhodes College and Career Academy, Principal Alyssa Starinsky began by asking the class of more than 100 ninth-graders to identify their dream careers.
"A pediatrician," one student called out. "An FBI agent," said another.
Soon the room was filled with voices proclaiming future plans: photographer, nurse, U.S. Air Force airman, dancer, OBGYN, singer.
Starinsky then told the students how the school would help them turn those dreams into reality.
The high school and another new model, the Rhodes School of Environmental Studies, share a building with James F. Rhodes High School, for grades 10-12.
Students spent the first day learning about the school's culture, which will center on social justice, service and real-world applications. The students will have the opportunity to choose career pathways, including a teaching track, which will allow seniors to graduate with a certification to work in daycare or childcare, Starinsky said.
"Our goal is that no matter what direction you choose to go in after high school, you'll be ready," she told the students.
Aidee Rutinel and her parents chose Rhodes College and Career Academy because of the emphasis on preparing for college. Aidee has wanted to attend John Carroll University since a she visited the campus on a school field trip in fourth grade.
"I want to go to college and become a judge," she said. "I know I'm going to go a long way."
Ninth-graders also engaged in team building at another downtown high school, Davis Aerospace and Maritime. The school will offer a college preparatory program with a STEM (science, technology, engineering and mathematics) focus while also featuring pathways to certification in its theme industries.
Principal Tim Jones told the group that it's a "special kind of student" who chooses Davis, because the school is brand new and presents unique opportunities. PHASTAR President Drew Ferguson, whose nonprofit will oversee the aerospace and maritime school's specialty programming, encouraged the students to make the most of their experience at the school and try new things.