Return to Headlines
Students train to work at polls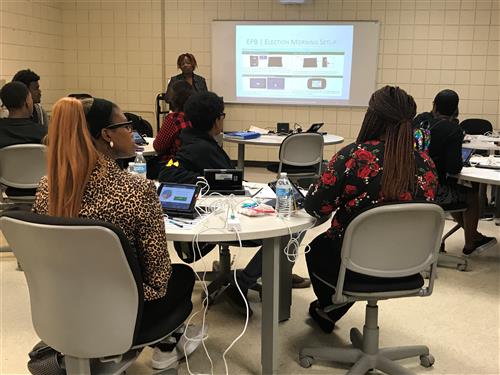 CMSD NEWS BUREAU
8/24/2017
Dozens of CMSD high school students will head to the polls in a few weeks, not just as voters but also as elections workers.
The students, who will carry the title of elections official, are being trained to work Cleveland's Sept. 12 primary and the November general election. They will make $172 per election, but they also will give back and add to their resumés.
"I just like to meet new people," said De'amonte, a senior at the
Cleveland High School for Digital Arts
. "And it will be good for the community."
The service is part of an Ohio Secretary of State program called "The Future of Democracy."
Trainers from the Cuyahoga County Board of Elections worked with De'amonte and 21 other students from Digital Arts and the
Cleveland School of Architecture and Design
on Thursday at the District's East Professional Center. The students joined 20 peers trained earlier in the week.
The Board of Elections is trying to recruit 80 CMSD students but would like to have one assigned to each of the city's 140 polling locations, said Percy Turner, an elections officials supervisor.
Cuyahoga County has participated in the program for at least nine years. To qualify, students must have a minimum grade-point average of 2.5 and be at least 17 years old by Election Day. Seventeen-year-olds can cast ballots for candidates but not for issues.
The kids' comfort with technology makes them a good fit for the electronic voting system, Turner said. And they display some strong people skills as well, he said.
"We rarely get complaints about students on Election Day," he said. "They're great."
Thursday's training covered operation of electronic poll books, handheld iPad Mini 2 models that Cuyahoga County introduced in May to speed check-in time. Workers verify registration by typing in a name or scanning the voter's driver's license or state ID.
Gayle Gadison, social studies content manager for the District, recruited students for the program through their guidance counselors. She reminded those in attendance Thursday that service as a poll worker comes with a lot of responsibility.
"This is a job," she said. "And it's an important job."
Students trained earlier this week were from
JFK E³agle Academy
. Turner said the Board of Elections plans to train students on site at five more high schools.