Return to Headlines
Grant will help attract, retain new teachers (video)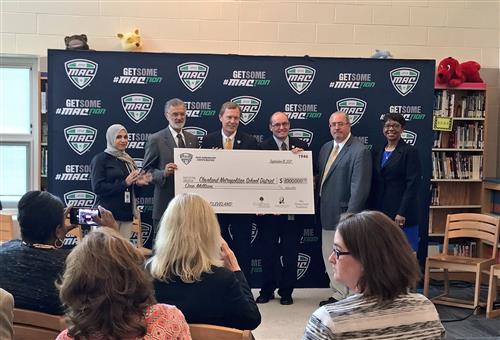 CMSD NEWS BUREAU
9/18/2017
CMSD will receive $1 million to help recruit, mentor and keep teachers in the critical but challenging work of urban education.
The money, to be distributed over five years, comes from the Mid-American Conference, College Football Playoff Foundation and Cleveland and George Gund foundations.
Jon Steinbrecher, commissioner of the Mid-American Conference, a Cleveland-based intercollegiate athletics league, made the announcement Monday at CMSD's Orchard School. The grant includes $500,000 that the MAC obtained through the College Football Playoff Foundation's Extra Yard for Teachers program.
CMSD Chief Talent Officer Lori Ward said the grant will help strengthen professional development and mentoring for new teachers and create a network that connects them to winners of the Excellence in Teaching awards. The awards, presented last year for the first time, honor CMSD teachers who demonstrate expertise and innovation and set a standard of excellence for their peers.
This new TEACHing Cleveland initiative complements CMSD's ongoing Teach Cleveland recruitment drive, part of The Cleveland Plan promise to find top talent. District Chief Executive Officer Eric Gordon praised the Mid-American Conference for investing in students before they reach college age.
"The MAC and all other universities depend on the students we send them to be successful," Gordon said.
Mayor Frank G. Jackson, who under state law oversees CMSD, said helping students wrestling with severe poverty requires a special kind of teacher. He said District teachers have to "understand the urban environment and how to get the most out of it."
First-year teacher Raghad Bteibet is as an intervention specialist at Orchard, working with children who have autism and multiple disabilities.
Bteibet, who came to the United States from Jordan, said CMSD teachers make a difference and change the lives of the students they serve. She said she benefits from the professional development and support that is already available to Orchard teachers.
"I feel I have a family here," she said after the news conference. "I'm very lucky and fortunate to be working at Orchard."
Orchard Principal Kathryn Francis said Orchard pairs each of its new teachers with a more experienced faculty member who serves as a "go-to" for questions.
Francis also hired an instructional coach who guides teachers in the school's focus on science, technology, engineering and mathematics, or STEM education. Under The Cleveland Plan, CMSD gives principals and their leadership teams authority over a majority of their schools' spending so the money can be applied to areas of need.
"We are making sure we are there for them every step of the way," she said. "It's sort of 'We'll catch you when you fall.' "