Return to Headlines
CMSD to host urban educators, Bill Gates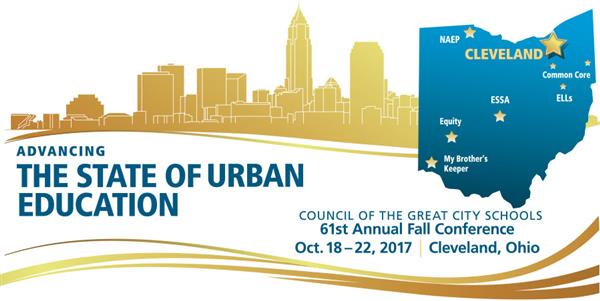 CMSD NEWS BUREAU
9/19/2017
About 1,000 representatives from large urban school systems will converge in Cleveland next month for a conference that will feature Microsoft founder and philanthropist Bill Gates as the keynote speaker.
CMSD will host the Council of the Great City Schools' 61st annual fall conference from Oct. 18-22 at the Hilton Cleveland Downtown. The council represents 68 of the nation's largest school districts.
The conference, returning to Cleveland for the first time in 40 years, will draw urban school superintendents and school board members, along with deans of colleges of education and senior school district administrators. They will discuss urban school achievement, professional development, leadership and governance, finance, bilingual education, immigrant and refugee issues and more.
Gates will speak on Thursday, Oct. 19. CNN contributor Van Jones and actress Rosario Dawson will speak on Friday, Oct. 20, with Jones also serving as moderator of a town hall.
That night, the council will announce the winner of the Green-Garner Award, the highest honor available in urban education. The award, also known as the Urban Educator of the Year Award, is presented in alternate years to a superintendent or board member.
Cleveland schools Chief Executive Officer Eric Gordon won the honor last year, and board member Denise Link, then the board chair, won in 2013. The council cited Gordon's role as an architect of The Cleveland Plan and progress that CMSD has made under the plan's reforms.