Return to Headlines
CMSD's work on display at conference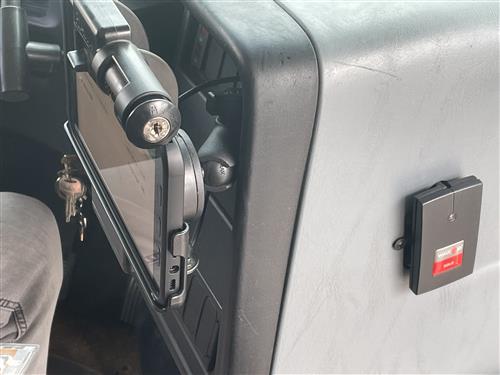 Three members of Chief Executive Officer Eric Gordon's Student Advisory Committee join him for a presentation during the Council of the Great City Schools' fall conference. The students are, from left, T.D. Epps of Ginn Academy, Wynnter Millsaps of Bard High School Early College Cleveland West Campus and Trevor James of Ginn Academy.
CMSD NEWS BUREAU
10/20/2017
Wherever you turned this week at the downtown Hilton Hotel and Huntington Convention Center, CMSD was displaying its work for urban educators from across the country.
CMSD not only hosted the Council of the Great City Schools' annual fall conference, the District outlined a variety of initiatives being carried out under The Cleveland Plan, a customized blueprint for education reform in the city. The District participated in 18 of 75 small-group presentations, in each case sharing the platform with at least one of the council's 68 other members.
District Chief Executive Officer Eric Gordon headlined a Friday afternoon session on the value of giving students a voice in their schooling.
Gordon regularly turns to a Student Advisory Committee for help in solving issues that confront the District and its schools. The committee is made up of 10-member delegations from each of the District's 39 high schools.
The state law that cleared the way for The Cleveland Plan gives students a say in their education, a guarantee that CMSD believes is unique in the United States.
He advised educators not to underestimate the importance of granting students a meaningful role, crediting the committee with crafting incentives that have reduced chronic absenteeism. Wynnter Millsaps, a junior at Bard High School Early College West Campus, accompanied Gordon and said she appreciates the opportunity to be heard.
"It makes me feel like my voice matters. It's empowering," said Wynnter, who was flanked by senior Trevor James and sophomore T.D. Epps, both from CMSD's all-male Ginn Academy. "It's really important to me as a person to have a say in what goes on around my school and the District.
CMSD's Talent Office and Cleveland State University's College of Education discussed the teaching fellowship program they launched in 2016 with support from the Cleveland Foundation.
Under the program, more than 30 student teachers are paid to work a year for the District, with mentoring and professional development provided to prepare them for the challenges of urban education. The program is designed to attract and retain a diverse corps of teachers.
CMSD makes clear that principals and their leadership teams set the tone for instruction in schools, Network leaders Andrew Koonce and Valentina Moxon and Lori Riddick, executive director of leadership development, outlined steps the District takes to develop strong principals.
New principals receive guidance from a mentor principal and monthly professional development. Koonce, who oversees a subset of CMSD schools, said time management is a major focus.
"Most of our new principals, regardless of how they are trained or where they come from, aren't able to anticipate the amount of things that will come their way and distract them from instruction," he said.
On Thursday, CMSD Multilingual Multicultural Office Director Jose Gonzalez showcased Thomas Jefferson International Newcomers Academy, the District's school for refugees and immigrants.
Gonzalez guided the group through the process of building an effective newcomers program, essentially from scratch. What began as a small program at three different schools led to the founding of the Newcomers Academy, which now enrolls over 900 students.
"We had to create a definition for 'newcomers' and figure out the best way to help acclimate them to not only the English language but also the American way of life," he said.
Gonzalez stressed the importance of partnering with mental health agencies to provide services for students who come from war-torn countries or refugee camps where they experienced trauma.
CMSD's Portfolio strategy was in the spotlight Thursday at a panel presentation that included Lincoln-West School of Global Studies Principal Irene Javier, Cleveland High School for Digital Arts Principal Jasmine Maze, John Marshall School of Information Technology Principal Chelsey Cook and Portfolio network support leader Lorenzo Russell.
Russell said the District incorporates the needs of students, parents and neighborhoods by giving them a voice in the design of new school models.
Via a slide presentation, Maze introduced the group to Richard, a ninth-grader in a physical science class at Digital Arts, The school uses a system of "mastery learning," with students advancing at their own pace as they master content.
"Richard is self-paced, so he made it to a certain level of understanding and is now asking his teacher a targeted question about an example he's dealing with," Maze said. "He has one-on-one interactions with the teacher, which is important to help him progress confidently to the next level."
Cook highlighted strong partnerships with higher education institutions that anchor the three pathways for students at John Marshall IT: health IT, software development and cybersecurity and networking.
The school works with John Carroll University (health IT), Cleveland State University (software development) and Cuyahoga Community College (cybersecurity and networking). Students can earn industry certification through these partnerships and visit the campuses or have professors in their classrooms on a regular basis.
"These experiences make the pathways more rich," Cook said. "It's not just curriculum; it's not just in the classroom. There are folks coming in, actual IT professionals who our students get to speak with, as well as projects that mimic what's happening in their fields."
The conference, which opened Wednesday, drew more than 1,000 superintendents, school board members and other leaders. Speakers have included philanthropist and Microsoft founder Bill Gates, actress and activist Rosario Dawson and CNN contributor Van Jones.
The gathering will end Sunday morning.