Return to Headlines
Chief operating officer travels to Puerto Rico to help schools
CMSD NEWS BUREAU
11/6/2017
CMSD Chief Operating Officer Patrick Zohn is part of an eight-member team that has been dispatched to Puerto Rico to help get the island's hurricane battered schools up and running.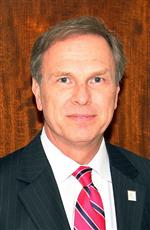 The Council of the Great City Schools assembled the team at the request of Puerto Rico's state schools superintendent. With the council paying travel expenses, the group will spend this week assessing damage and helping repair schools pummeled by Hurrican Maria.
A majority of the island's more than 1,100 schools remain shut down due to loss of power, flooding and other damage that occurred when Maria struck on Sept. 20. In the aftermath, many families have left for the mainland.
(Puerto Rican students enroll in CMSD schools after families flee island.)
"I'm honored and excited to be part of this work," Zohn said before flying to Puerto Rico on Sunday. "I'm anxious to get down there and help in any way we can."
The council team was told that it would perform some of the labor required to reopen schools. Zohn, who calls himself a "blue-collar kid," said he would have no problem rolling up his sleeves and getting dirty.
Zohn joined CMSD in 2010 after working on construction of ballparks and other public venues with the Gateway Group of consultants and handling construction cases as an attorney with the U. S. Labor Department.
Zohn now oversees CMSD's districtwide school construction and renovation program. He also is responsible for other major non-academic departments, including security, food service and transportation.
Last year, the Council of the Great City Schools honored Zohn as its COO of the Year. The council represents 70 of the nation's largest school systems.
With Zohn in Puerto Rico are the council's executive director, Michael Casserly; Eugene Salazar, director of business operations for the Houston Independent School District; John Dufay, executive director of maintenance and operations for the Albuquerque Public Schools; Mark Zaher, director of school operations for the Miami-Dade County Public Schools; Keith Scroggins, chief operating officer of the Baltimore City Public Schools; Alex Belanger, assistant superintendent for facilities management and planning for the Fresno Public Schools; and Julius Monk, executive director of facilities for the Guilford County Public Schools.
Have a story idea for the CMSD News Bureau? Email it to newstips@clevelandmetroschools.org