Return to Headlines
Top 10 news stories of 2017: CMSD in national spotlight (Photo gallery)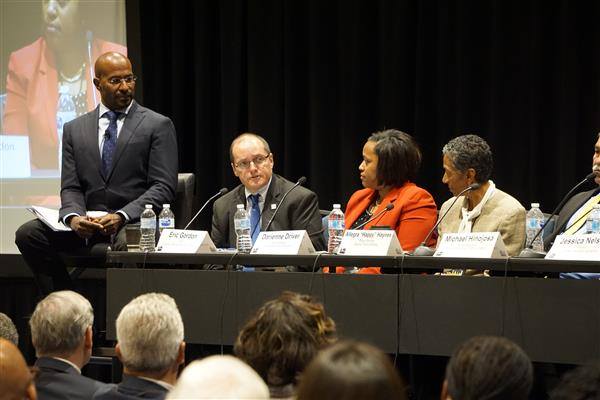 CNN contributor Van Jones moderates a town hall meeting on the meaning of equity in education. The meeting, which was held in October during a Council of the Great City Schools Conference in Cleveland, featured a panel that included CMSD Chief Executive Officer Eric Gordon.
CMSD NEWS BUREAU
12/28/2017
After hearing for several years about the good work going on in the Cleveland Metropolitan School District, educators and others from across the country came to the city in 2017 to get a look for themselves.
A theme emerges when the District's top stories of the year are ranked, and it's that CMSD has captured widespread attention in the areas of school reform, social and emotional learning, attendance and collaboration with charter schools.
As a new year settles in, accompanied by the expectation of even more progress under the reforms in The Cleveland Plan, it's also a good time to reflect on where we have been. With that in mind, here are the CMSD News Bureau's Top 10 news stories of 2017.
Like any such listing, this Top 10 excludes stories that were certainly deserving of consideration.
In that group was the debut of a Microsoft program that matches volunteers with CMSD computer science teachers, part of an effort to offer computer science in all District high schools and, eventually, expand to lower grade levels.
Other worthy stories told of the Ohio Department of Education report that found CMSD has made progress under The Cleveland Plan, legendary Glenville football coach Ted Ginn Sr.'s 200th win and growth in the District's menu of Advanced Placement courses with help from the National Math and Science Initiative.
There also was expansion of the True2U mentoring program for eighth-graders to take in all schools with that grade, the United Arab Emirates' donation of a soccer field at Franklin D. Roosevelt School and the Cleveland Browns' installation of two synthetic-turf football fields -- one at the John Adams Campus and the other at John Marshall Campus -- the last of five fields put in by the team. Still others included PRE4CLE reporting that the partnership had helped to increase the number of children enrolled in high-quality preschool by 50 percent, the attendance campaign reaching its goal for the second straight year, Campus International K-8 School cutting the ribbon for a new home at Cleveland State University and CMSD breaking ground on seven new school buildings, continuing a modernization program that began more than a decade ago.
The photo gallery below provides just of few of the scenes that accompanied the year's developments and events. The photos include: Campus International K-8 students taking in the ribbon cutting for their new building in September; MC²STEM High School students using protective glasses to view a total eclipse of the sun in June; dads participating in one of the many Fathers Walks to Cleveland schools in September; a photo from an exhibit of Facing History New Tech High School students representing the 30 articles of the Universal Declaration of Human Rights, displayed at MetroHealth hospital; a student snapping a photo in September at the groundbreaking for a new Waverly School; a member of the National Commission on Social, Emotional and Academic Development chatting with a student during the commission's visit to Wade Park School in May; CEO Gordon and other panelists discussing Say Yes to Education during a "Cleveland Connects" presentation at ideastream in September; K-8 chess players squaring off in a District chess tournament in December at the East Professional Center; Browns linebacker Christian Kirksey visiting George Washington Carver School in December as part of the District's "Get 2 School, You Can Make It!" attendance campaign; and students at Oliver H. Perry School performing in the annual Molly Day salute to the late Molly Voinovich and her family in November.
Keep up on CMSD's progress and good news in the new year by going to www.clevelandmetroschools.org/news, where you also can find a link to subscribe to our digital newsletters. Also follow or like CMSD on Facebook, Twitter, Instragram and YouTube. Then please share.
Have a story idea for the CMSD News Bureau? Email it to newstips@clevelandmetroschools.org