Return to Headlines
State superintendent is 'principal for a day' at Glenville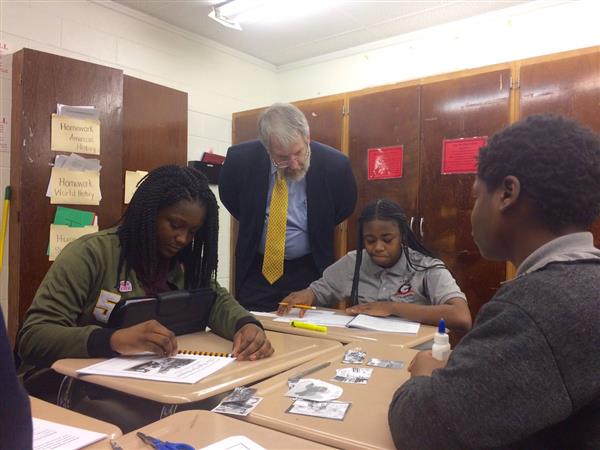 Ohio public schools Superintendent Paolo DeMaria spent a day in the life of a Glenville principal, including visiting classrooms.
CMSD NEWS BUREAU
1/25/2018
It only took one day at Glenville High School for the Ohio superintendent of public instruction to feel the deep sense of pride that comes with being a Tarblooder.
Paolo DeMaria, as part of the state education department's Principal for a Day program, met with students and parents, observed classes and talked with administrators about how the school is moving the needle for students.
Glenville last year received the department's Momentum Award, which recognizes schools for exceeding expectations in student growth for the year and earning straight A's on all "Value-Added" measures on the state report card. Glenville was one of two CMSD schools -- the other being Clark School -- to receive the award.
The superintendent arrived at the school with high expectations, tweeting the day before about notable Glenville alumni Steve Harvey, Ted Ginn, Superman creators Jerry Siegel and Joe Shuster, among others.
By the time he left, DeMaria said he felt excited and energized about what's happening at Glenville.
"What I saw here today is a perfect example of what I look for in schools over my years of work," DeMaria said. "The teachers and administrators advocate for kids and reach outside the school walls to find opportunities."
DeMaria learned about the school turnaround efforts that began four years ago through the work of co-principals Jackie Bell and Sam Scavella. Scavella spent a day shadowing DeMaria in his Columbus office last week.
The principals laid out the Glenville improvement plan, which included switching to a block schedule, adopting restorative approaches to discipline and assembling a teaching staff that buys into the new school culture.
The principals showed the superintendent the professional development room, where walls are covered with data about student progress, including where each individual student stands on the path to graduation.
Glenville's dedication to helping students work through problems has resulted in a steady decline of suspensions and expulsions, Scavella said.
"We just don't kick kids out," he said. "If something happens where a student isn't engaged or is stopping the teaching and learning process, we go through a process of building time for kids to reflect on their behavior."
In his conversations with students and parents, DeMaria heard testaments to Glenville's progress.
A senior named Brianna told DeMaria about the transformation she has undergone since ninth grade, when she would sometimes grow angry and get in trouble. Instead of giving up on her, Brianna said, teachers and administrators gave her leadership roles that helped her fulfill her potential.
"They believed in me and gave me confidence in myself," Brianna said. "I began to use my energy for school and athletics and I got a lot of work done."
Brianna also told DeMaria about the opportunities Glenville has provided to help her pursue her interest in law, including mock trial, the Stephanie Tubbs Jones Summer Legal Academy at Case Western Reserve University, internships and youth government programs in Columbus.
Glenville parents told DeMaria they appreciated the school's committment to ensuring that no student falls through the cracks. Kimesha Mathews enrolled her two sons at Glenville last year after the family moved from Atlanta.
"The teachers are very good at communicating with me about my children," she said. "It's been very welcoming, and my kids have been exposed to a lot of things that I was never exposed to in high school and that other high schools didn't offer."
Mathews' son is about to begin an internship with U.S. Rep. Marcia Fudge, an opportunity principal Bell encouraged him to pursue.
Another parent, Takisha Claybrooks, said she was nervous about her son attending Glenville because of the neighborhood violence she witnessed growing up there. But now, Claybrooks says she wouldn't want her son going anywhere else.
Her son, a senior, especially benefits from the Closing the Achievement Gap Program, a CMSD initiative that helps at-risk male students overcome barriers to graduation.
"My son can go to his mentor for anything, and he has really blossomed," she said.
Claybrooks' daughter even decided to transfer to Glenville for her junior year.
DeMaria called Glenville an example what can happen when a school commits to going the extra mile and makes the success of every student a priority. He admired how the tenets of the school culture that the principals laid out for him in the morning were echoed in conversations with students and parents.
"I am now part of the Glenville fan club," he said.
An uplifting & inspiring day! Thanks to @GlenvilleHS principals Samuel Scavella & Jacqueline Bell for welcoming me to your learning community. I applaud your dedicated efforts on behalf of students & the countless ways in which you make a difference in their lives. #OhioEd pic.twitter.com/6jq0HuayUZ

— Paolo DeMaria (@OHEducationSupt) January 23, 2018
Have a story idea for the CMSD News Bureau? Email it to newstips@clevelandmetroschools.org.