Return to Headlines
Students traveling to aid post-hurricane Puerto Rico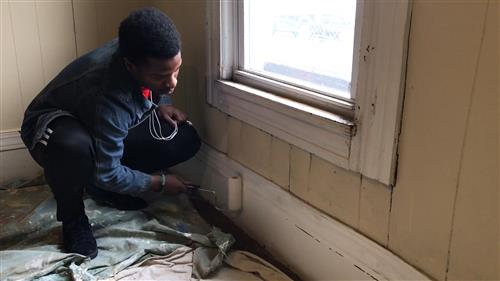 A Lincoln-West School of Global Studies student paints a home in Cleveland to gain experience for volunteer work in Puerto Rico.
CMSD NEWS BUREAU
2/12/2018
Inside a vacant, dilapidated home in Cleveland's Detroit-Shoreway neighborhood, Lincoln-West School of Global Studies students hauled out debris and swept the floors of a house that will be renovated for a family of refugees.
The students are helping out their own community, but they are also preparing for an upcoming trip to Puerto Rico. Seven students and four teachers will fly to the island in late March to volunteer in communities recovering from Hurricane Maria, which struck the island in October and left a path of destruction.
The students are all in a Spanish class taught by Rosa Morales-Cruz. The class, coincidentally, was studying Puerto Rico when the hurricane hit, amplifying students' feelings of devastation when they saw news coverage of the storm and its aftermath, Morales-Cruz said. Many of the students also have Puerto Rican heritage, including one student who moved from the island just three years ago.
"They felt like they needed to do something about it," Morales-Cruz said. "Our community was doing a lot -- sending food and money -- but we knew we needed to see it and have our kids there to help."
So the planning began. Morales-Cruz was born in Puerto Rico and so was familiar with some of the most significant challenges facing the community where her family lives, in a city called Juana Díaz. Students chose parts of the island that appeared to be receiving little assistance, including Juana Díaz, and identified problems to address during their trip. They also began organizing fundraisers to pay for their travel expenses.
The class plans to visit a senior home, an elementary school and an orphanage. At the senior home, they will help build a community center where residents can communicate via video chat with family members who relocated to the United States after the hurricane. They also will help the senior citizens learn how to use the technology.
At the orphanage, which Morales-Cruz says has seen an influx of children since the storm, they will paint a mural and plant a garden, working alongside the children. And at the elementary school, the students will paint classrooms and create a bilingual Spanish and English library to help children communicate better with family members who have moved to the United States.
To prepare for these projects, the school turned to community organizations that have been partners in the past, including Mustard Seed Development and Greater Cleveland Habitat for Humanity.
Mustard Seed buys houses at below-market rates and then rehabilitates them to rent out to newcomers in the community. Mustard Seed Development Director Daryl Anderson opened up two homes where students spent a morning learning how to safely paint, demolish and remove debris from a house that had been flooded -- a common problem in post- Maria Puerto Rico.
The Hearty Hearts Home Health agency trained the group in CPR.
The trip will offer a bounty of cultural and educational experiences for the students, including a trip to Casa Museo de los Santos Reyes, a museum in Juana Díaz. The students will have opportunities to practice their Spanish during gatherings with native Puerto Ricans to learn about dancing, food, art and the economy of the island. The teachers have also scheduled a visit to the University of Puerto Rico in Río Piedras.
Jonathan, a Global Studies sophomore, is excited to travel to a new place and work on his Spanish, which, once he perfects it, will become his sixth language.
"I'm excited to see a new experience and see how they live, what they eat, the culture -- everything," he said.
For another sophomore, Kenneth, the trip will be more personal. He is looking forward to visiting family members whom he last saw three years ago, when he left the island for Cleveland. Many of his family members and friends are still suffering the effects of the storm.
"I feel sad because my family lost their house," he said. "I'm looking forward to helping more people."
The trip, which the class calls "Youth Lifting Puerto Rico" is one way the school is fulfilling its mission to transform students into global citizens with a passion for service, Morales-Cruz said. When the group returns, she hopes that they will continue working with Mustard Seed Development to renovate homes for refugees.
"My goal is for the students to see that no matter what goes on around the world, we have so many blessings. We should take care of what we have already and see how we can make a difference," Morales-Cruz said.
Another teacher going on the trip, Wilda Morales, also has family in Puerto Rico who suffered serious losses in the storm. She hopes the trip will bring joy and healing to Puerto Ricans and stir up a humanitarian spirit in the students.
"I'm envisioning that the students can understand and take hold that not only in Puerto Rico are there so many challenges, but also in our community," she said. "I hope they'll start asking, 'How can we build our community from the ground up?' "
Have a story idea for the CMSD News Bureau? Email it to newstips@clevelandmetroschools.org.