Return to Headlines
Conference to showcase CMSD engagement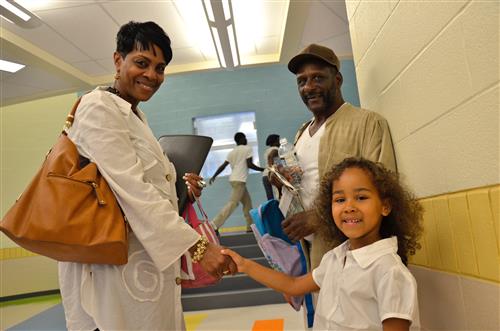 CMSD NEWS BUREAU
3/14/2018
More than 1,300 visitors from across the United States are expected to gather in Cleveland in July for the fifth annual National Family and Community Engagement Conference.
The conference, hosted by the Institute for Educational Leadership, will draw school district leaders, other educators, families and students who will meet July 11-13 at the downtown Huntington Convention Center.
As part of the conference, participants will learn about initiatives that have helped to dramatically increase engagement in CMSD schools. The first large-group session will be devoted to the District's practices, and groups will visit six schools.
Conference participants will choose from dozens of workshops, where they will learn about new research and share practices. CMSD representatives will present a number of the workshops.
"We only go to places where we feel like they have some fairly well developed work," S. Kwesi Rollins, IEL's director of leadership programs, said Tuesday before a conference planning meeting at the District's East Professional Center. "Cleveland is one of those places."
Rollins said the institute had planned to come to Cleveland two years ago, but the Republican National Convention had grabbed the convention center.
CMSD's strategies include various styles of parent-teacher conferences, like the formation of academic parent-teacher teams that analyze student data.
The Family and Community Engagement Department also offers an array of programs such as college bus tours for parents and students, free college courses for parents and networking and training opportunities for parent groups. The District also has involved parents in the redesign of instruction at 13 schools.
Family and community engagement is a key part of The Cleveland Plan, a blueprint for education reform in the city.
The plan, written into state law, calls for parents and caregivers to have at least one meaningful face-to-face meeting with their children's teachers each year. More than 90 percent of parents and caregivers complied last year.
Have a story idea for the CMSD News Bureau? Email it to newstips@clevelandmetroschools.org