Return to Headlines
Partnership begins testing students for lead poisoning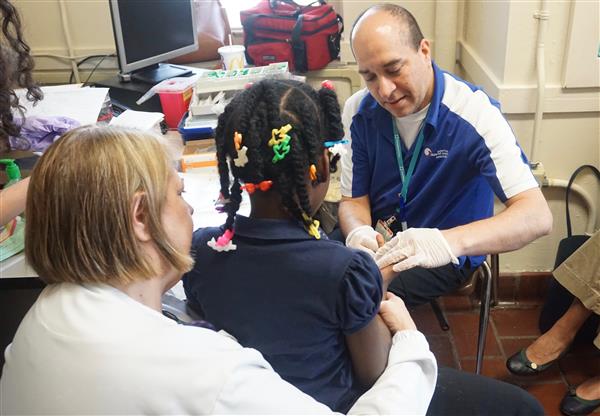 Nurses and nursing students tested Michael R. White kindergarten students for lead poisoning as part of the Partners in Health screening initiative.
CMSD NEWS BUREAU
4/18/2018
Cheryl Johnson has spent the past three years knocking on doors in Cleveland's Glenville neighborhood to educate parents on the importance of getting their children screened for lead poisoning.
Last week, Johnson smiled as she watched nurses test the blood lead levels of 20 Michael R. White School kindergarten students. Johnson's work, performed on behalf of the Greater University Circle Community Health Initiative and in partnership with a band of other community organizations, was finally paying off.
Friday marked the launch of the Partners in Health lead screening program, which aims to reach all children ages 3-5 at four CMSD schools this year and eventually expand across the entire District.
Nurses from CMSD and the Cleveland Clinic, along with nursing students from the Case Western Reserve University Frances Payne Bolton School of Nursing, were set up in the Michael R. White nurse's office to conduct finger-prick tests that extracted a small amount of blood from each child.
Partners in Health is a collaboration that includes the nursing school, CMSD, the Health Initiative, the Cleveland Department of Public Health, Mayor Frank Jackson's office, the Cleveland Clinic and MetroHealth.
"We've been saying the schools are the best place to reach kids, because parents are already bringing them here," Johnson said. "It's wonderful to see the process of helping kids get tested in schools finally take off."
Parents and caregivers have been receptive to news of the screening program, as evidenced by the high return rate of the consent forms that each school sent home.
A grandmother of a Michael R. White kindergartner had him screened Friday. She said that while her grandson's doctor has tested his blood lead level before, and the results were below the threshold for lead poisoning, she is grateful to have another opportunity to follow up.
"I don't want anything to affect his learning and I just want him to be healthy, so any time the school has testing, I'll send him, because you never know," she said.
While the supervisors and nurses at Michael R. White were all smiles, the children were a bit less excited.
There were a few tears before the test, but fear dissipated as each child sat in the lap of one nurse, blowing bubbles and chatting about school, while another nurse initiated the finger prick. The deal was sweetened with the promise of a toy of the child's choice, a slice of pizza and a bowl of ice cream after the screening.
This round of testing, which requires parental consent, is considered a pilot. The team will visit the other pilot schools -- Scranton, Fullerton and Mound -- this week.
Partners in Health was launched in response to research showing that Cleveland children are at an elevated risk for lead poisoning.
During a 5-year period ending in 2014, more than 17 percent of Cleveland children under the age of 6 had more than 5 micrograms per deciliter of lead in their blood -- the Centers for Disease Control and Prevention's "blood level of concern." In Glenville, where Michael R. White is located, one study showed that 23.3 percent of children under the age of 6 were poisoned by lead. Despite these alarming numbers, only about a third of the city's children are screened.
Lynn Lotas, associate professor at the nursing school, and Deborah Aloshen, CMSD director of health and nursing services, are leading the screening program. They recently hired Martell Jackson as program coordinator.
Jackson helped oversee the testing at Michael R. White and will work with Lotas and Aloshen to expand the testing across the District over the next two years.
Jackson has personal connections to CMSD and this project that make the work especially meaningful. He grew up in Cleveland's Euclid Park and Buckeye-Shaker neighborhoods and graduated in 2008 from the now-closed East High School. He put himself through Cleveland State University by working as a custodian in CMSD schools.
While earning his bachelor's degree in health science, he took on an internship at the District's Buhrer Dual Language Academy, helping facilitate an asthma education program for students and families. Aloshen got to know Jackson because of this work and suggested that he apply for the program coordinator's position through CWRU.
"This is important to me, having grown up in neighborhoods where a lot of kids were exposed to lead and knowing that this is a huge epidemic affecting students," Jackson said.
A real problem with real consequences
Even low levels of lead in blood have been shown to affect IQ, concentration and academic achievement. And while it's difficult to measure how deeply lead poisoning has impacted Cleveland children, individual stories give a glimpse into the effects.
Take Sakaiya Rahmon, a 2017 graduate of MC²STEM High School who was diagnosed with lead poisoning at 15 months. Rahmon ate lead paint chips from a windowsill as a baby and as a result has struggled with learning difficulties and behavior problems her whole life.
When Rahmon was growing up, her mother tried to protect her from lead exposure by checking with a landlord to make sure there was no lead paint in the family's home.
The landlord said the home was safe, but when Rahmon was tested during a neighborhood festival, the results showed elevated lead levels in her blood. Her mother took her straight to the emergency room for further testing, which showed a lead level of 61 micrograms per deciliter of blood.
Rahmon's symptoms were similar to that of ADHD, a condition that several doctors and counselors diagnosed her with as she was growing up. Doctors prescribed ADHD medication, but it didn't help.
Rahmon struggled in school, especially with math class and anger problems.
"Things got worse in high school," she said. "I tried to maintain good behavior, but it was hard not getting upset over little things."
Her experience with the Refresh Collective helped Rahmon process her diagnosis. The Cleveland nonprofit works with youths, using music as a vehicle to help them raise their voices on community issues that affect their lives.
Refresh Collective founder Doc Harrill, aka Dee Jay Doc, has a residency program at MC²STEM, helping students write, produce and perform songs about topics like gun violence, poverty, racism and other social issues.
Rahmon met Harrill through the program in ninth grade and found release in writing and singing songs about how lead poisoning had impacted her life.
"When my mom first told me about my diagnosis, I was shocked," she said. "But when I wrote songs about it, I felt grateful to be here. It gave me motivation to not give up on myself, because God has brought me this far and protected me."
Rahmon says her symptoms have worsened with age, and she finds herself easily overwhelmed and struggles with anxiety. Since there is no cure for lead poisoning, she uses tips from counselors to try to maintain a healthy lifestyle.
Rahmon now attends Cuyahoga Community College and is striving for a career as a dental hygienist or an oral and maxillofacial surgeon. She hopes to travel the world and explore places outside Cleveland.
While data shows that lead poisoning is a fairly common problem in Cleveland, Rahmon doesn't know of anyone else who suffers from it, and that can be an isolating experience.
"Sometimes I get upset about what the landlord did because my mom tried to protect me from it," she said. "But you can't protect someone from what you're blind to."
Despite these difficulties, Rahmon finds support and encouragement from her family, with whom she lives in the Tremont neighborhood while attending college.
Partners in Health is setting out to make sure that stories like Rahmon's become a relic of the past. Through education and screenings, the program aims to significantly lower lead levels in children that in some parts of Cleveland are worse than those in Flint, Mich., where lead poisoning has garnered national media attention.
Aloshen, who is entering her 32nd year looking after the health of CMSD children, was visibly overjoyed Friday as she watched a boy who had just been tested reach into the basket of toys she held, his pointer finger wrapped in a "Black Panther" bandage as he picked out a jar of Play-Doh.
"You don't know how happy I am," Aloshen said. "I've been fighting for this for 15 years. There's no reason our kids should be at a disadvantage because of lead, and we're putting a stop to this."
Have a story idea for the CMSD News Bureau? Email it to newstips@clevelandmetroschools.org.