Return to Headlines
Newton D. Baker extends Stop the Hate win streak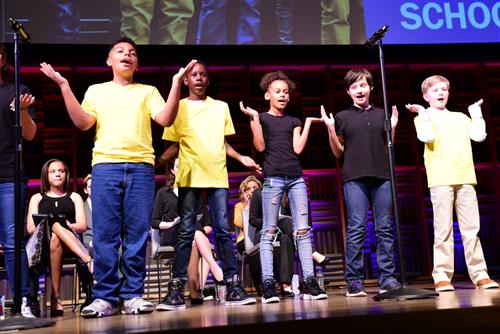 Newton D. Baker students performed an original song at the annual Stop the Hate awards ceremony at the Cleveland Museum of Art.
CMSD NEWS BUREAU
5/2/2018
Students at Newton D. Baker School of the Arts have continued their streak of award-winning performances in the annual Stop the Hate Youth Sing Out.
The school's sixth and seventh grades tied for first place, marking the fifth consecutive victory in the competition presented by the Maltz Museum of Jewish Heritage. Newton D. Baker beat out 15 other schools for the top spot and received a $5,000 anti-bias education award Sunday during an awards ceremony at the Cleveland Museum of Art.
The school also won an award for having the most participants in the Stop the Hate essay contest for the third year in a row, earning it an additional $5,000 award. Sixth-grader Scott O'Neill took home $400 for winning first place in the essay competition for his grade level. His essay explored the importance of accepting and including people who have disabilities, based on a personal experience with a disabled friend.
The Stop the Hate Youth Speak Out celebrates student "upstanders" who demonstrate a commitment to creating a more accepting, inclusive society. Each year, the Maltz Museum of Jewish Heritage gives out $100,000 in scholarships, awards and anti-bias education grants in recognition of 6-12th grade "upstanders" across 12 Ohio counties.
Under the direction of Newton D. Baker teacher Tamara Blair, the students co-wrote original songs in collaboration with Roots of American Music, a local nonprofit that provides arts programming. The students also visited the Maltz Museum as an introduction to the project.
They began practicing in September and performed in front of five judges at the competition on Nov. 1 and again at the awards ceremony. The sixth grade group performed "Why Hate?" and the seventh graders performed "Keep History Alive."
The school is using last year's award money to fund an upcoming field trip to the National Underground Railroad Freedom Center in Cincinnati.
Have a story idea for the CMSD News Bureau? Email it to newstips@clevelandmetroschools.org.