Return to Headlines
CMSD to add third school based on IB model
Construction crews work on the new William Rainey Harper PreK-8 School in June.
CMSD NEWS BUREAU
7/9/2018
Ajayi Monell came to Cleveland from Georgia three years ago and embraced CMSD's practice of letting families pick their schools. Now he has an opportunity to market one of the District's newest  options.
Monell is principal of the new William Rainey Harper School, which will start with preschool through third grade when it opens next month in the Old Brooklyn neighborhood. Harper will be the third CMSD school to follow the International Baccalaureate model, joining Campus International K-8 and Campus International High School.
Campus K-8, based at Cleveland State University, perennially ranks as the District's most popular choice, with seats filled by lottery and other students placed on a waiting list.  Adding Harper will expand CMSD families' access to the IB philosophy.
Harper will stress an inquiry method of instruction, permitting students to take control of their learning,  raise questions, research  answers and benefit from the mistakes they make along  the way. To that will be added the International Baccalaureate model's global perspective and recognition of how a student's actions, even  locally, can impact the world. 
"My vision for William Rainey Harper is to make it a major place of learning not just for the kids but for the teachers, staff and the community,"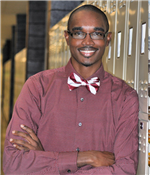 said Monell (shown in photo at right), who previously was assistant principal at Riverside School. "I've told people I want this to be the Disneyland of schools here." 
William Rainey Harper must take additional steps to become an official IB school. By March 31 of next year, Harper will submit an application asking the International Baccalaureate global governing body to accept the school as a candidate. Later, Harper will seek designation as an IB "world school."  
There are no admissions requirements for Harper. Like Campus International K-8 and the high school, it is designed for all.
City Council President Kevin J. Kelley, who represents the ward where Harper is located, welcomed the decision to make it an IB school. 
"I'm excited that CMSD has chosen such a world-class curriculum," Kelley said. "Students at this new school  will be taught to think critically and independently."  
William Rainey Harper School, named for a noted 19th Century educator, replaces a building of the same name that was closed in 2010 and later demolished. Crews are putting finishing touches on the new building at Ira Avenue and Fulton Road; teachers and other staff have been hired.
Monell said the next step is for him to forge a relationship with the community and its residents and give the school an identifiable face.
"They will definitely see someone who is passionate, one who is dedicated and excited about learning that moves beyond what is in a textbook," he said. "I want them to see me as a champion for their children's success. I am invested in their children being successful."
Monell has scheduled Meet the Principal sessions at:
5 p.m. on Wednesday, July 11, in the gym at James F. Rhodes Campus, 5100 Biddulph Road.
1 p.m., Friday, July 20, South Branch Library, 4303 Pearl Road.
5 p.m., Friday, July 20, Urban Kurtz Barbershop, 4491 Pearl Road.
To enroll at at any CMSD school, families can call 216-838-3675, go to choosecmsd.org or visit summer enrollment sites listed here.