Return to Headlines
Institutes will bring together coaches, athletes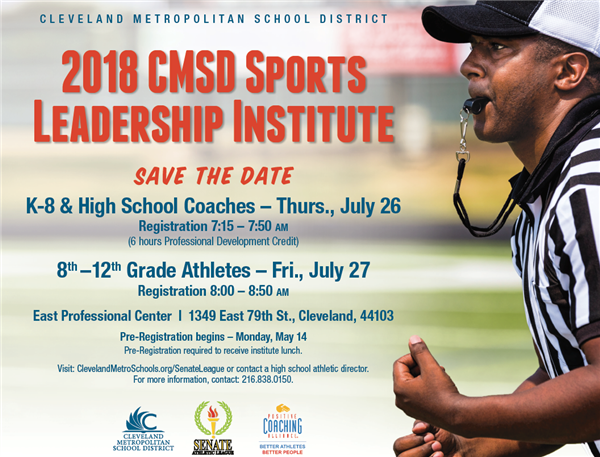 CMSD NEWS BUREAU
7/10/2018
CMSD will bring together coaches, athletic directors and athletes over two days this month to help all of the groups up their games.
The District's first-ever Leadership Institutes will be held from 8 a.m.-3:30 p.m. on Thursday, July 26 for K-8 coaches and athletic directors and from 8 a.m. to 4:30 p.m. on Friday, July 27 for athletes in the eighth through 12th grades. Both institutes will be at the District's East Professional Center, 1349 E. 79th St.
Coaches' and athletic directors' sessions will cover topics such managing injuries, time management and training, scheduling transportation and motivating and developing athletes.
Athletes will learn about leadership, nutrition, how their use of social media can affect their teams and communities and how teammates can help each other improve. They also will hear a panel presentation featuring Glenville football coach Ted Ginn Sr., Cleveland Indians great Andre Thornton and former CMSD athletes who went on to success after high school.
The institutes are designed for coaches and athletes from all sports, regardless of the season. Participation is free.
The intent is to provide professional development for coaches and help athletes take a sense of pride and responsibility in their performance, said Desiree Powell, director of interscholastic athletics, health, physical education and student activities.
To pre-register for one of the institutes, go to clevelandmetroschools.org/athletics or call 216-838-0150. Bus transportation will provided for athletes from high schools that have sufficient pre-registration.