Return to Headlines
District showcases work at family and community engagement conference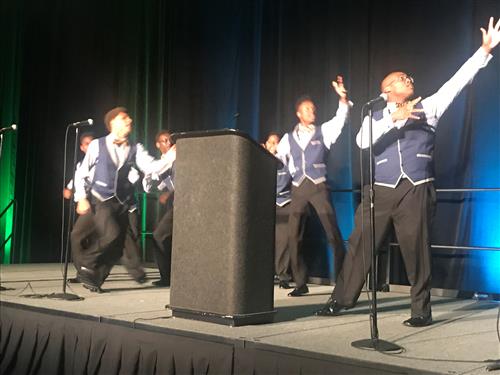 The Distinguished Gentlemen of Spoken Word recite poetry at the opening of the National Family and Community Engagement Conference. The group includes some CMSD students.
CMSD NEWS BUREAU
7/12/2018
More than 1,200 visitors from across the country have come to the Huntington Convention Center this week to share best practices in family and community engagement -- and CMSD's efforts make Cleveland a fitting backdrop.
The Institute for Educational Leadership's fifth annual National Family and Community Engagement Conference closes a three-day run Friday. Part of the time has been spent focusing on initiatives that the District has taken under The Cleveland Plan, a customized blueprint for education reform in the city.
Mayor Frank Jackson and CEO Eric Gordon welcomed the participants Wednesday and stressed the important role that parents and community partners have played in the District's recent progress.
"Everything we've done in Cleveland, and we've been successful at, we've done as a community effort," Jackson said. "The greater the challenge that we have, the greater the obstacles that we have to overcome. That means that community effort has to be even greater."
Gordon cited the formation of Academic Parent Teacher Teams in schools to monitor student data as well as free courses offered to parents through Cuyahoga Community College and bus tours that give families a look at college campuses. The CEO noted that in recent years, more than 90 percent of parents have had meaningful conferences with their children's teachers.
Tamara Thomas, a recent graduate of CMSD's Washington Park Environmental Studies high school, said both she and her mother felt a close connection to the school community, which added to the quality of her educational experience.
"CMSD does a great job of informing families of any changes that may be happening in the District," said Tamara, who was named the Boys and Girls Clubs' Ohio Youth of the Year. "That's important because the more informed families are, the more engaged they can be."
In looking ahead to the conference earlier this year, S. Kwesi Rollins, IEL's director of leadership programs, said the institute takes the conference to places like Cleveland that "have some fairly well developed work" in family and community engagement. Small-group sessions featured CMSD strategies such as the creation of the Academic Parent Teacher Teams, alignment of community wraparound services for families, enlisting parents, students and partners in the design of new school models and rallying the community behind CMSD's "Get 2 School. You Can Make It!" attendance campaign.
Before launching new school models, CMSD recruits parents and community partners to craft a vision for the school, including a "portrait" showing the ideal graduate's characteristics, the school's guiding principles and a list of the priorities or values that may vary by location.
"Every project is different," said Angee Shaker, the District's executive director of portfolio engagement. "We have to be flexible. We have to be adaptable."
Lorri Hobson, director of attendance, outlined the three-year "Get 2 School. You Can Make It!" attendance campaign, which has captured attention with its successful push to reduce chronic absenteeism, a national problem.
Watch a PBS Newshour report on the attendance campaign.
The campaign has raised awareness with tools such as billboards, yard signs, radio ads, phone calls to homes of students at risk of missing more than 10 days in a year and incentives for students to improve their attendance. The Cleveland Browns Foundation has served as the signature partner, providing financial support, arranging for motivational player visits to schools and having players record automated phone calls to families.
CMSD has shifted its focus from penalizing parents to removing barriers like a lack of transportation and clean uniforms that can cause children in the impoverished city to miss school, Hobson said. School food distributions and school clinics operated by MetroHealth help keep students fed and healthy.
"We developed empathy," Hobson said. "We no longer saw them as being a problem. We saw that, as a city, we have problems and issues."
As part of pre-conference activities, busloads of participants fanned out Wednesday morning to schools where they could learn about the family and community engagement practices employed there. About 30 people went by bus to Buhrer Dual Language School, where classes are taught in both Spanish and English so students can learn either.
Buhrer, located on Cleveland's near West Side, has about 400 students, with more on a waiting list. It is not uncommon for nearly that many parents to show up at Literacy Nights and other events.
Principal Michele Sanchez and a panel consisting of parents and a student said Buhrer makes Spanish-speaking parents feel welcome by providing translation at every turn. They are greeted in their native language and hear Spanish music playing in the building.
"They gave us the confidence and opportunity to have a voice as a parent," panelist Katyan Mendez, who has two daughters enrolled at Buhrer, said through a translator.
Among the visitors at Buhrer was Laura Gardner, a Washington, D.C., consultant who helps schools engage with immigrants and refugees. She congratulated Buhrer on creating an environment that encourages involvement.
"It's not just responding, but embracing the cultural and linguistic needs," Gardner said as the group prepared to dine on a buffet of Hispanic foods. "Once you set that welcoming tone, families are going to be lining up out the door."
Buhrer was one of six CMSD schools the conference participants could visit. Others were Harvey Rice, Patrick Henry and Wilbur Wright schools and Facing History New Tech and John Adams high schools.
Have a story idea for the CMSD News Bureau? Email it to newstips@clevelandmetroschools.org.