Return to Headlines
GRAND OPENING OF MC2STEM HIGH SCHOOL TO CELEBRATE SIGNATURE PARTNERSHIP OF KEYBANK, CSU AND CMSD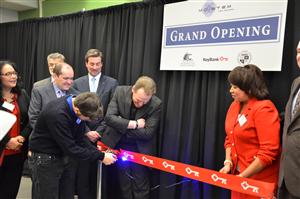 The Cleveland Metropolitan School District's MC²STEM High School is complete now that its juniors and seniors have found a permanent home on the campus of Cleveland State University.
The innovative school, which specializes in science, technology, engineering and mathematics, celebrated at a grand opening Monday, Nov. 18, along with leaders from the district, Cleveland State University and KeyCorp.
The KeyBank Foundation contributed $1.25 million to renovate space for the students on two floors of Rhodes Tower and has given more than $2.5 million to STEM education in the district. The facilities at CSU include a "fab lab" that is equipped with computers linked to laser-powered cutters and other machinery.
"This is a statement of our commitment to this program," said Margot James Copeland, executive vice president of KeyBank and chair of the foundation, "but more importantly, this is a statement of our belief in the young people of this community.
MC²STEM, which was launched in the 2008 year, holds ninth-grade classes at the Great Lakes Science Center, while 10th-graders go to school in a building at GE's Nela Park complex in East Cleveland. Employees from GE and the National Aeronautics and Space Administration's Glenn Research Center at Lewis Field work with the students.
Juniors and seniors previously attended classes at the district's Health Careers Center, but CMSD Chief Executive Officer Eric Gordon said supporters of the school had always hoped for more. "We always envisioned that we would land our students on a college campus," Gordon said. "This is the final block of a dream."
Principal Jeffrey D. McClellan said the location is ideal because it is on Greater Cleveland Regional Transit Authority's Healthline, allowing students to travel easily from school to work at internships. Juniors and seniors also get comfortable in a college atmosphere and can take classes for credit at the university.
"It really tells the kids,'You're going to college,' " McClellan said. "That's the expectation for everyone. We don't just talk about it, we actually put them here."
All of MC²STEM's 2012 graduates were accepted at colleges and universities. Most of this year's seniors have been accepted, and letters continue to come in.
Cleveland State President Ronald M. Berkman told an audience of more than 100 at the grand opening that placing MC²STEM at the university has helped to create an "integrated educational biosphere."
"We all serve the same children eventually," he said. "We all serve the same mission. We all serve the same goal."
MC²STEM's stated capacity is 100 students per grade level, but McClellan said the school can take a few more. He said enrollment stands at about 350 and is expected to top 400 next year.
GE provides six students a year with internships in engineering, marketing and information technology. Spokeswoman Andrea Timan said the students are given meaningful assignments after applying and going through interviews and background checks.
Senior Michael Allen, 18, is interning in GE's marketing department. He said he plans to attend Baldwin-Wallace University and major in business.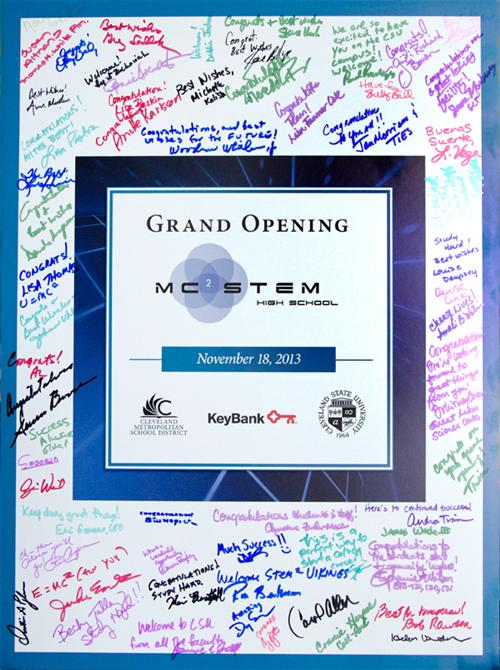 Ninth-graders Monica Rolince and Jessica Lewis previously attended the same West Side charter school and had not enrolled in CMSD before coming to MC²STEM. Monica said she liked the school's project-based curriculum and year-round schedule of 10 weeks in class, followed by a three-week break.
"It's a very good learning experience," she said. "We learn many things that you wouldn't normally learn in a public school."
Astronaut Stephanie D. Wilson, the second African-American in space, spoke at MC²STEM's grand opening. Wilson, who flew aboard a mission of the shuttle Discovery to the International Space Station in 2006, told students that "outer space is the limit to what you can achieve."
Dr. Julian M. Earls, retired director of the NASA Glenn Research Center, was in the audience. Earls, who is now executive in residence at Cleveland State's Monte Ahuja College of Business, has been an advocate of making STEM education available to minority children.
"There is a shortage of engineers and scientists in this nation," he said. "We cannot afford to overlook any resource."