Return to Headlines
Stedman Graham urges Ginn Academy young men, parents to become leaders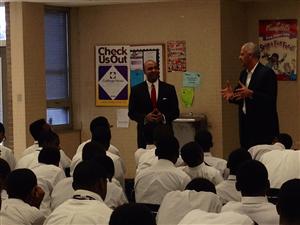 Educator, author and motivational speaker Stedman Graham brought his inspirational message and leadership training method back to the Cleveland Metropolitan School District's Ginn Academy on Tuesday.
In separate meetings with students and parents, Graham went through his nine-step program, urging both groups to better themselves for the betterment of the community at large.
About 100 young men attended the morning session with Graham and about two dozen parents came to the evening program.
"It's so important for us to reach the parents with this message, too," said Ginn Principal Nick Petty.
Graham, once a budding basketball star who starred in a European professional league after college, told the students to find something they love, create a vision to do that thing and then work a plan to make it happen.
He echoed that message in the evening session, reminding parents that "if you do what you love, you'll never actually work a day in your life," but that 99 percent of the people in the world don't ever actually accomplish that goal or blessing.
Graham told the parents that they need to educate themselves first, but then inspire their children to excel.
"Take education and make it relevant," he said, adding that as parents impart knowledge to their children, "they can becone leaders of their own life."
Graham acknowledged that although he is often known initially because of his relationship with Oprah Winfrey, he does not let people define him solely by that and told the parents and young men to remember that lesson – to not fit into the 'boxes' that other people try to put you in.
Graham's stated mission on his website is "to transform people from followers to leaders and change the way they think and learn."
He says on the site that "many of us spend years trying to find out who we are and, sadly, too many of us never do. If we fail to define ourselves, we risk letting others define us by our race, gender, and background. We buy into the labels that keep us in a box and, as a result of those limitations, never reach or realize our greatest potential."
Stedman Graham has authored eleven books, including two New York Times bestsellers, You Can Make It Happen: A Nine-Step Plan for Success and Teens Can Make It Happen: Nine Steps to Success.
His latest release, Identity: Your Passport to Success, was on the Wall Street Journal Bestseller list. Graham has also launched an online course, in partnership with the University of Phoenix, based on the Nine Step Success Process® which supports Identity Leadership development.