Return to Headlines
School Belle: Cleveland Magazine profiles Carol Lockhart
Issue Date: December 2013 by
Jillian Kramer
- ClevelandMagazine .com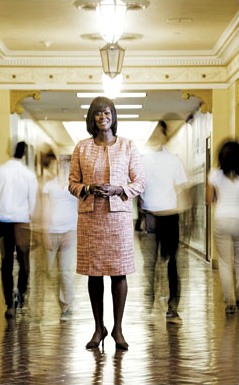 Eric Mull
The best public high school in Northeast Ohio is a Cleveland school. Surprised? You won't be once you meet principal Carol Lockhart, whose demanding leadership and nurturing ways have made Early College High School at John Hay a model for transformation.
Carol Lockhart stands before her students gathered for a September assembly. They're rambunctious and loud, until their prim, polished and color-coordinated principal taps the microphone and they fall still and silent.
"Mama" Lockhart, as the teenagers call her, has taught her children well.
"Our school is a team," she says to the crowd at Early College High School at John Hay. "And in each team, there is a focus. You are the bull's-eye in this team. It's because of your work, it's because of your attendance" — she pauses to allow a roar of applause to wash through the two-story auditorium — "it's because you are doing what is necessary to get the job done that we are here today."
What they've done, why they are here is break-the-curve significant. The Cleveland Metropolitan School District academy is celebrating a state-issued Performance Index score that surpassed all but four of 3,500 Ohio schools, one-upping districts such as Solon — which ranked ninth — Aurora and Independence.