Return to Headlines
Teachers to work with small groups, ask parents for help
CMSD NEWS BUREAU
Friday, 12/13/13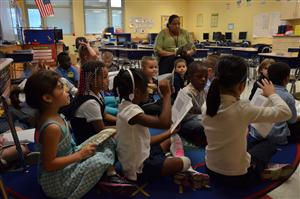 CMSD teachers will work to raise third-grade reading scores by focusing on this year's class and the students who will follow.
The District has identified 5,148 students in kindergarten through third grade -- about half the total -- who are behind on their skills and will get help, said Julie K. Snipes-Rea, director of assessment. Though state law required that the children be evaluated, she said the number receiving intervention increased because the District was aggressive in determining who qualified.
Teachers have been required to develop strategies tailored to each student's needs. Susan Wagner, director of English language arts, said students with similar weaknesses -- phonics, for example -- will be divided into groups of four to eight for reading instruction, and teachers will assess their students' progress every two to three weeks.
In early November, CMSD sent a letters to parents of children in kindergarten through third grade who are "not on track."
The letter detailed the children's reading problems, specified how those problems were diagnosed and stressed the importance of attending parent-teacher conferences. Parents of third-graders were notified that under Ohio's new
Third Grade Reading Guarantee
, their children are at risk of being held back.
Teachers in kindergarten through third grade were required to work closely with parents on creating the plan to monitor and improve their children's reading skills.
Wagner said the District will ask schools to hold workshops for parents and show them strategies and activities that can reinforce learning at home.