Return to Headlines
CMSD will improve marketing of STEM to Hispanic students
CMSD NEWS BUREAU
1/9/2014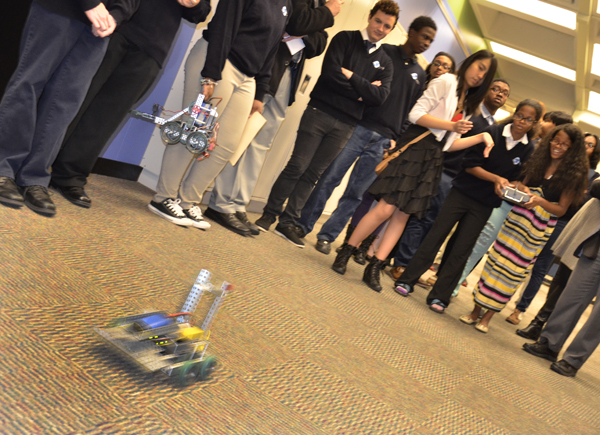 CMSD has entered into an agreement with the U.S. Department of Education to better promote STEM high schools and programs among Latino students and students who are learning English as a second language.
The Department of Education's Office of Civil Rights had expressed concern about the District's efforts to publicize STEM (science, technology, engineering and mathematics) education.
In a news release issued this week, the department said only 130 of 5,586 Hispanic students were enrolled last year in the District's four STEM high schools.
In addition to the STEM-themed high schools, CMSD has three other high schools with STEM programs. The department said participation in STEM is hampered because only one of the schools and one of the programs is on the West Side, the hub of Cleveland's Hispanic community.
CMSD has assembled a committee of District and community representatives to identify barriers to Latino enrollment in STEM. The committee will meet at 4 p.m. Thursday, Jan. 16 at Thomas Jefferson International Newcomers Academy, a District school that helps new arrivals adjust to the United States.
Among other things, CMSD's plans call for recruiting more Hispanic students to Garrett Morgan School of Science on the West Side, radio and television advertising, meeting with parents to resolve concerns about traveling to other parts of the city on public transportation and using STEM principals and students as ambassadors.
Esperanza, a nonprofit group dedicated to improving education in the Hispanic community, welcomes the efforts, said Jesus Sanchez, director of programs. He is a member of the new committee.
"It's extremely important to provide all the opportunities,avenues and options," he said. "When you are thinking of an education, you have to think of it from the whole perspective."
Besides Garrett Morgan, STEM high schools include the Cleveland School of Science and Medicine, MC2STEM High School and Design Lab-Early College. STEM programming also can be found at the East Technical High School Engineering and Science Academy; New Tech East, also housed at East Tech; and New Tech West, located at Max S. Hayes High School.