Return to Headlines
District starts customer-service training based on Clinic model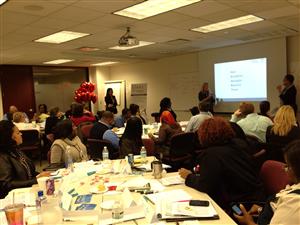 CMSD NEWS BUREAU
2/12/2014
A new District partnership with the Cleveland Clinic is intended to transform "the customer experience" at CMSD, schools Chief Executive Officer Eric Gordon told a group of 40 employees who are at the forefront of the new Communicate with H.E.A.R.T customer-service training.
"It is very sophisticated in how simple it is," Gordon told the trainees on Thursday, Jan. 23,
(See
Plain Dealer coverage on cleveland.com
)
when they learned the method from Clinic employees in an all-day session. "All of us can be successful at it, and we'll have vastly improved service with very minor changes."
The District plans to have the remainder of its administrative employees trained in the Clinic's program by the end of February and, ultimately, all 6,000-plus employees by the end of this school year.
Gordon said the training was a "change-the-culture" moment, part of the District's execution of
The Cleveland Plan
and one way among many toward shaping the workforce. All are in keeping with goals for this school year.
In short, the training teaches the standards of acceptable behavior for treating customers, from students to families to corporate and educational partners and funders to any member of the general public.
According to the Clinic: "Communicate with H.E.A.R.T. is Cleveland Clinic's branded foundational communication model for delivering a culture of service excellence. The communication model empowers caregivers to provide outstanding service to patients, visitors and fellow caregivers, and it includes interactive activities to support the learning process."
Gordon
said the Clinic and the District are each like small cities, with transportation, food service, maintenance and other concerns, as well as a skilled workforce in either medicine or education. Because of that, employees at both the hospital system and school system frequently interact with the public.
The Clinic, which developed the customer-service program internally over the last decade, charges other companies for the training but is donating its services to the District. The partnership has been in the works for about a year.
Cross-training of other employees by those first few dozen District workers began Monday, Jan. 27. Members of senior leadership are being trained now.
Late that first afternoon, Director of Transportation Ann Carlson and other trainers worked through a slide presentation of the Clinic's twofold program. The parts include:
The S.T.A.R.T. with Heart® customer-service training program. The acronym stands for: : Smile and greet warmly; Tell your name, role and what to expect; Active listening and assist; Rapport and relationship building; and Thank the person.

The Respond with H.E.A.R.T.® service recovery program, which stands for Hear, Emphathize, Apologize, Respond and Thank.
The
H.E.A.R.T. program
has been in place for nearly a decade at the hospital system, radically transforming and improving patient satisfaction at one of the world's best-known hospitals, Clinic officials have said.
Clinic Chief Experience Officer Dr. James Merlino told the initial CMSD training group that when Chief Executive Officer Toby Cosgrove arrived in 2004, the Clinic was ranked in the lowest 10 percent for patient satisfaction among 6,000 hospitals nationwide, despite a top three ranking for quality health care.
Today, the Clinic is in the top 6 percent in patient satisfaction, according to a U.S. News & World Report survey and is the top-ranked hospital among the 15 largest institutions. He said that leap from near the bottom to near the top was due in large part to the Clinic's H.E.A.R.T approach.
"We realized it's not good enough for a hospital to treat your medical condition," Merlino told the CMSD trainees. "There is so much more to treating people than providing medical services, and I would say that in education it's probably similar, right?
CMSD Chief Operating Officer Patrick Zohn reminded his own employees and others in the room that they are often the first few people who students come in contact with, so the customer-service training was especially relevant.
"This is personal to me, and I want to make it personal to operations employees," he said. "In most
instances, the first three or four people students meet each school day are operations employees: the bus driver, a security guard, a cafeteria worker and maybe then a custodian.
How an operations employee treats a child will set the tone for how the child learns in the classroom that day."
The training has been well received.
"I learned new strategies for working with families to make them happy," said Robyn K. Ballew, who works in Hearing and Appeals for the District. "The training changed my way of thinking, letting me know that it's so much more that I can do to serve our families. I left the seminar with a bigger heart."
VeLita Hill, a student-assignment specialist, said the training was perfect for someone who works "directly with
parents who are often upset and irrate."
" This training has made me look at self and what I do wrong when serving parents," she said. "I often feel personally attacked in my job; however, with the training I received ... I see it's not personal, as well as how to defuse and deal better with these kinds of situations as they arise."