Return to Headlines
'Truth Booth' coming to Facing History New Tech school Thursday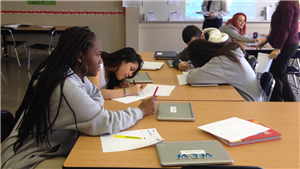 CMSD NEWS BUREAU
2/4/2014
You may have not yet heard of "The Truth Booth," but the students at CMSD's Facing History New Tech High School are getting ready to climb inside – and are betting you'll want to do the same.
The Truth Booth
, a project initiated by three artists affiliated with the San Francisco-based Cause Collective is an inflatable video studio the size of a small cottage but made in the shape of a speech balloon (the kind you see in comic strips). It is part public art display, part sociology experiment, part philosophy/morality assessment and part mental challenge.
And all education, at Facing History New Tech, anyway.
Simply put, here's how it works: When it's your turn, you go inside the all-white interior of the inflatable room, press "Record" and in two minutes or less, finish this simple-but-provocative statement: "The truth is...."
That's it, but that's a lot, said Facing History teacher Martha Verde.
"There's not one truth, but everything has a collective truth," said Verde, who is further challenging her 10th-grade students to relate the project to a book they have just studied called "Our America," an account of two African-American young men growing up on the South Side of Chicago.
"My purpose is to widen our universe of obligation," she said. "The Truth Booth and the study of 'Our America' are perfectly fit for what we do here: We're in one set area and we don't know what other people's truths are, what their America is."
Facing History New Tech is one of CMSD's Innovation Schools and is considered the first high school of its kind in the nation because it combines the Facing History and Ourselves curriculum with the project-based idea of the New Tech program.
Students at the school on Montclair Avenue not only focus on project-based learning, it amplifies that idea by having students work on those projects collaboratively. The combined study project is then presented to an audience of peers and staff, and the students' grades are then based on a combination of content, oral and written communication, teamwork, reflection and work ethic.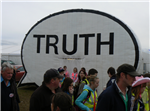 So the scholars at FHNT this week, in preparation for the Truth Booth exercise, have been studying a historical event – the 1979 shooting deaths of five anti-Ku Klux Klan protestors in Greensboro, S.C. – to explore how media, the public and participants have varying views of "the truth" in relation to that event.
"Leading up to tomorrow, the students are investigating 'Uncovering the Truth in the Face of Injustice,' " school Principal Marc Engoglia said. "It requires our students to look at a past event that actually happened, and determine what really happened, ultimately, what is the truth.
"Furthermore, it is requiring our students to consider who they are, what they value, where they come from, and where they are going. All of these are strong tenets of Facing History and Ourselves."
The booth, which
appeared at the Cleveland Museum of Art
over the Martin Luther King Jr. Day weekend, will be set up all day Thursday and is open to all students who have signed a permission form as well as to other students in other New Tech schools in the District and the general public.
To see a slideshow of the booth installation elsewhere, go to http://bit.ly/LMIgFJ
Engoglia said in a blog post
for NewTechNetwork.org that that the display debuted at the Galway (Ireland) Arts Festival in 2011. It also drew attention when it
appeared later that year outside one of the debates
between President Obama and Republican challenger Mitt Romney.
The Truth Booth came to Cleveland as the result of a collaboration between the Museum of Art and the local office of Facing History and Ourselves, said its director Mark Swaim-Fox.
"We frame a lot of our curricula resources around very broad questions like this one," Swaim-Fox said. "This is what our work and the school is all about, looking at the world not as a monolith of black or white, but all of the gray in between."
The Facing History and Ourselves method began in 1976 and has grown from a single office in Brookline, Mass. to an international organization with more than 150 staff members in more than a dozen cities, including Cleveland.
Facing History also has educational partnerships in a growing number of countries, including Northern Ireland, Israel,Rwanda, South Africa and China.
According to it's website, Facing History engages over 3 million students annually through its network of more than 31,600 educators around the world and reaches the public and the broader educational market through community events and extensive online resources.
Since t
he Cleveland office
was established in 1999, Facing History has provided more than 1,400 educators with programs and resources that connect the study of history to lessons about tolerance, respect and civic participation today.
These teachers reach over 95,000 middle and high school students in public, independent and religious schools across Ohio, and s
ince 2008, 60 teachers from CMSD schools have attended Facing History workshops or seminars.