Return to Headlines
Brazilian delegation learns about career, technical education from CMSD
CMSD NEWS BUREAU
2/4/2014
A delegation from Brazil met with CMSD representatives Tuesday to learn how the District handles career and technical education.
The visit, part of a five-city, cross-country swing, was arranged through the State Department and Cleveland Council on World Affairs.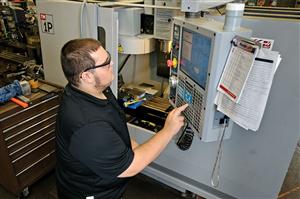 Brazil is expanding career and technical education to fill a void in the nation's educational system, said Jane Pereira, a teacher at the Federal Institute of Brasilia and coordinator of a program designed to increase access to training. She said there is strong demand for training in tourism and hospitality but also in fields such as accounting and management.
"We were really interested in checking how things work here –teacher training, how the curriculum is organized," she said.
Pereira and five other educators from Brazil met with the CMSD team at Jane Addams Business Careers Center in the Executive Grille, home of the school's culinary-arts program. Besides Jane Addams, the District operates career and technical programs at Max S. Hayes High School, the Martin Luther King Jr. Campus and Washington Park Environmental Studies.
The Brazilian government runs the country's schools. C. Annette Darby, CMSD's director of career education services explained that the U.S. government funds career and technical education, but training is managed locally in Ohio by districts like Cleveland, joint vocational schools and compacts between school systems.
The Brazilian educators also visited the Cuyahoga Valley Career Center, Cleveland Job Corps Center and Cuyahoga Community College and on Wednesday are to go to the ArcelorMittal steel plant.
The group arrived in the United States on Jan. 25 and will leave Feb. 15. The delegation previously visited Washington, D.C., and New York City and will head from Cleveland to Riverside, Calif., and Pensacola, Fla.