Return to Headlines
CMSD meets with prospective high school students at charter school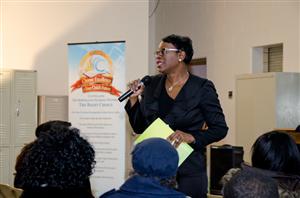 CMSD NEWS BUREAU
2/20/2014
More than two dozen eighth-graders at a Cleveland charter school got a personal pitch about exciting and expanding high school opportunities in the District on Thursday afternoon.
The students at Woodland Academy also received a history lesson and a bit of a push from State Sen. Nina Turner, a Cleveland schools graduate, who invoked the names of famous African-Americans from Sojourner Truth to Harriet Tubman to Martin Luther King Jr. in a nod to Black History Month.
"You stand on the shoulders of foremothers and forefathers who didn't have anywhere near the opportunities that you or I have," she told the room full of eighth-graders, their parents and caregivers, Woodland Academy staff and CMSD staff. "We're counting on you to do great things, and we hope that you choose to do them at a Cleveland school. But even if you don't, you have an obligation to those who came before you to dream and work to make those dreams come true."
Turner supported The Cleveland Plan, CMSD's state-approved blueprint for reform. Among other things, the plan calls for increasing options for students and families.
CMSD officials, including Chief Portfolio Officer Christine Fowler-Mack, were at the independent charter school at the invitation of Administrator Denise Hieronymous, who said the meeting could represent a change in the way the independent school and the District interact.
"Really, it was (recruiter) Marcia McCoy who came to me and just sold the idea that she would like to come in and present all of the choices that Cleveland high schools offer," Hieronymous said. "Our interest is in giving our students, our eighth-graders, the best chance for success, so it's great to have CMSD here with us today."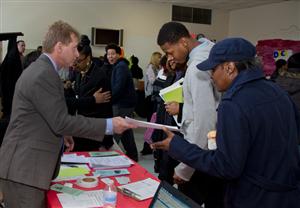 McCoy was joined by colleagues Marcy Saxton and Daniel Kelly, who were set up with laptops to register prospective high school students on the spot after Turner, Fowler-Mack and others spoke.
CMSD is in the midst of a campaign to encourage families to decide this month which schools they want to enroll students in for the 2014-15 school year.
High-quality options are increasing under the District's new portfolio model, which allows students and families to pick the schools that best fit their needs. But if they wait too long, it may be too late.
Students may attend any school if space is available and, in some cases, they meet admissions criteria. Through open enrollment, that choice also extends to families and students in neighboring school districts.
CMSD eighth graders recently brought home a new high school catalog that is posted online at www.ClevelandMetroSchools.org
Michelle Pomerantz, policy and labor liaison for schools Chief Executive Officer Eric Gordon, implored the students to "make the right choice for you."
"We will then do our very best to make you a satisfied customer of the Cleveland Metropolitan School District," she said.
Parent Tonya Garrett said she and her eighth-grade son are "leaning toward" applying to the Cleveland School of Architecture and Design at the District's high-performing John Hay Campus.
"My older daughter graduated from JFK in 2010 but also spent her first two years at John Hay, so I was somewhat aware of what Cleveland had to offer," she said. "But I think there are even more options now than there ever were."