Return to Headlines
Young student musicians from Willson school wow University Hospital lunch crowd (video)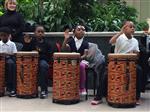 CMSD NEWS BUREAU
2/26/2014

The rhythm of two dozen drums being pounded as one echoed off the glass ceilings and tile floors of the University Hospitals atrium on Wednesday. The sound pulsed through the crowd of hospital workers, patients and others watching the musicians from CMSD's Willson PreK-8 School.

And in the final days of Black History Month, those drum beats were also echoing through time, place and culture, said Olugbala Manns, an African drum instructor who has worked with Willson music teacher Kimberly Alfred for 14 years.
Manns goes by the name "Brother Olu" when he teaches African drums with CMSD. He also teaches the discipline at Kent State University and Hiram College.

"Especially at this time, playing African drums really relates to them," Manns said. "It's a way to acknowledge and have something that relates to our young people when it comes to music and culture."

The lunchtime crowd at UH certainly appeared to enjoy the show, clapping at times and even singing along to parts of "We Shall Overcome" when performed by students in first through fifth grades. Frank Miller Jr., diversity program coordinator for the hospital system, said the crowd loves when CMSD students come in for the lunchtime event.

"It's community outreach, and we love working with the schools as a partner," he said. "It's a great cultural event, but then we also get a chance to feed them a nutritious lunch afterward. We're not just a hospital, but we're a part of the community, and that includes our schools."
But there was more than entertainment and lunch at play for the nearly 100 Willson students, Manns said.
"In music terms, we call it 'being on the one,' the idea of being focused, attentive, centered and ready," he said. "We talk all the time with the kids about transferring that focus to their schoolwork.
The same attentiveness you saw in those young people's eyes as they focused on playing the drum is the same attention level they need when preparing and taking a test.

"The drum is just a tool to teach you how to practice being focused. That's the same message our CMSD teachers are giving to their students each day."

Alfred said she began working with Manns when the school was awarded a grant from the House of Blues in 2006.

Since then, Willson School, 1126 Ansel Road, also has become a center for teaching students with hearing problems. About 30 percent of the students have problems ranging from profound deafness to mild hearing loss, she said.
"It's not an easy thing, but it has sort of become my niche," she said. "They feel the vibrations and can visually see the music happening."
Willson Principal Katherine Bush

said the school offers American Sign Language as a language course to eighth-graders and has a clinic that p
rovides audiological evaluation for students, including diagnosis and management of hearing loss.
The school offers also special education for students with hearing impairments. The students learn with assistance from interpreters or teachers certified in deaf education, she said.
"Our goal is seamless educational integration for all students -- all scholars viewing each other as equals and contributors' to Willson's learning community," she said in an email.
Bush secured the partnership that purchased the drums, Brother Olu's stipend and uniforms for the girls' cheer squad, which also performed Wednesday.