Return to Headlines
CMSD, partners expanding access to high-quality prekindergarten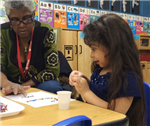 CMSD NEWS BUREAU
3/11/2014
A network consisting of CMSD and other providers will make high-quality preschool available to as many families as possible under a plan unveiled Tuesday.
PRE4CLE will expand access to prekindergarten for 4-year-olds next school year and will eventually include 3-year-olds. The initiative helps to fulfill a promise in The Cleveland Plan to put a top-shelf education within reach of children everywhere in the city, regardless of who supplies it.
"What better way to do that than to start at pre-K," Mayor Frank G. Jackson said during a news conference earlier this year at the District's Marion-Sterling PreK-8 School on Central Avenue.

CMSD Chief Executive Officer Eric Gordon had just come from Marion-Sterling teacher Nicole Gentile's prekindergarten class, where students were learning about the letter J by identifying words that begin with the letter, graphing the colors of jelly beans, composing stories about jewels and writing the letter in blue sand. He said research shows that the brain forms rapidly when children are preschool age and that the period is critical in the development of emotional, social and cognitive skills.

"We know we can't remediate our way out of a challenge," he said. "Instead, we have to help our children arrive ready for kindergarten."

Gordon and Marcia Egbert, a senior program officer for human services at the George Gund Foundation, co-chaired a 60-member community
task force that worked on the plan
for four months.
PRE4CLE, to be overseen by a group called the Cleveland Early Childhood Compact, will start by aggressively marketing existing seats in programs that score well on the standards set by Ohio's Step Up to Quality program, then will concentrate on adding classrooms. The goal is to have 2,000 additional children enrolled in high-quality preschool in 2016.

According to the Center on Urban Poverty at Case Western Reserve University, Cleveland had 3,530 seats in high-quality preschools last year, but only 2,857 were filled. That was with children ages 3 to 5. The city had more than 13,000 children in that age group.

Only 54 of 243 preschool centers in the city were considered high quality, but many of the centers had not applied for or obtained a rating.

Pre4Cle will cost an estimated $15 million in its first year, with money going to purposes such as training of teachers and aides and transportation and tuition assistance, barriers that can prevent families from taking advantage of preschool. CMSD, which is considered a high-quality provider, offers prekindergarten for free.
Not all the funds have been raised, but the task force has obtained enough in commitments to proceed. CMSD will contribute $2.5 million, Gordon said. Cuyahoga County Executive Ed FitzGerald said the county will add $1 million. The initiative is expected to also net federal and state funds.

Gordon said CMSD will focus on filling existing seats in the District's prekindergarten classes and expand classrooms from 14 to 20 seats by adding a teacher's aide. The District will increase the number of classrooms in 2015-16, he said.

Another speaker, Duanna Hunter has taught prekindergarten for seven years at CMSD's Mary M. Bethune PreK-8 School on the city's East Side and previously spent 10 years teaching kindergarten.

"As a kindergarten teacher, I could always tell which students had gone to high-quality preschool," she said. "They came to school ready to learn. They knew how to learn."