Return to Headlines
Glenville student wins $10K scholarship in 'Stop The Hate' essay competition from Maltz Museum of Jewish Heritage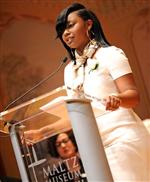 CMSD NEWS BUREAU
3/13/2014
Glenville High senior C
hane'l Collins (photo, at right) won a $10,000 college scholarship Thursday night after a public reading of her "Stop the Hate" essay at Severance Hall.
Chane'l (see photo at right, courtesy of Marc Golub Photography( is the second finalist f
rom Glenville English teacher
Tenney Hammond's class
in the last three years in the
the Maltz Museum of Jewish Heritage's
"Stop the Hate, Youth Speak Out
" scholarship competition. She told competition officials that she h
opes to attend Clark Atlanta University and major in mass media studies.
Chane'l read aloud an essay about the shooting of a childhood friend in 2011.
The essay begins:
"Gang violence everywhere! We're killing one another, fighting over nonsense.
Chane'l read her essay, as did nine students from other Northeast Ohio high schools, including Solon, Shaker Heights, Beaumont and Walsh Jesuit.
"It was a wonderful evening and she did not only herself proud, but the Cleveland Metropolitan School District proud," Hammond said.
Students were asked to write a 500-word essay about:
A time they witnessed an act of discrimination or hate toward themselves or someone else

If they responded, why did they decide to stand up? How can they encourage their peers to do the same?

If they didn't respond, why not and what changes might they make to their behavior next time?
All of the essays will be available to read on the
Maltz Museum website
, www.maltzmuseum.org/ , once the competition concludes tonight.
Performers from two CMSD schools, Newton D. Baker K-8 School and John Marshall High School, also sang at the event as the selected winners of the Youth Sing Out portion of the competition and also won a total of $10,000 in scholarship prizes.
Tenney said the Stop the Hate competition has been valuable to all of her students, not just the ones who have been selected as finalists.
"I t
hink the issues that this essay contest deals with are ones that these students desperately need to come to terms with in their everyday life," said Tenney, who is in her 14th year at Glenville. "The first assumption is that we're talking only about racism or anti-Semitism, but this is as much about just being aware that there are people different than you and accepting that difference."
Previous topics have included bullying, gender identity and the treatment of people with disabilities, she said.
"Stopping hate is not something that is just restricted to the big-ticket items," she said.
Glenville Principal Jaqueline Bell said Chane'l has already read her essay aloud before the school staff of about 50 teachers and administrators and in front of museum founder Milton Maltz during a rehearsal.
"She is getting less nervous every time she gives the speech," Bell said. "Mr. Maltz seemed very impressed and said 'Just keep doing what you're doing,' which meant a lot to her. When she spoke before our staff, they gave her a standing ovation."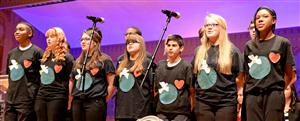 Bell said on the way to the rehearsal, Chane'l was nervous, in part because she was the sole representative of the Cleveland Metropolitan School District in the competition.
"I'm proud of her for working hard, and I'm proud of all of our students for believing that they can accomplish this," Bell said. "This is a very important part of education here at Glenville and really along the lines of our 'Humanware' piece -- addressing issues like lack of tolerance and bullying."
Singers from Newton D. Baker/
Marc Golub
The musical portion of the evening was made possible by a grant from the Martha Holden Jennings Foundation, said Maltz spokeswoman Jill Rembrandt.
"This has been a tremendous part of our program, and this year we doubled it in size," Rembrandt said. "We're very happy to be a partner with CMSD on this."
M
ore than 400 District students took part in the Youth Sing Out portion of the Stop the Hate competition, according to a news release.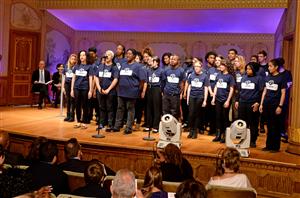 In collaboration with Roots of American Music, a local music education nonprofit, teaching artists led residencies at Riverside, Newton D. Baker, Franklin D. Roosevelt and Charles Eliot Elementary Schools and John F. Kennedy, Collinwood, Lincoln-West, and John Marshall high schools.
Then, after a museum visit, students took what they learned back to the classroom and incorporated themes of diversity and tolerance into their lyrics, she said.
A CD with songs from each of the schools will be released in a few weeks, Rembrandt said.
Singers from John Marshall/Marc Golub