Return to Headlines
Max Hayes aims to be among country's top career-tech schools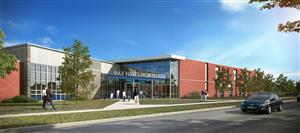 CMSD NEWS BUREAU
3/28/2014
Runners will pound the pavement for 5 kilometers during the upcoming Race to the Max, making their way from the existing Max S. Hayes High School on Detroit Avenue to the construction site of a new building that the career-technical school is scheduled to move into at the beginning of the 2015-16 school year.
But that feat pales in comparison to the leap in status the school's supporters hope it will achieve in the new home. Supporters envision creating one of the most innovative career-tech schools in the United States and adding to the portfolio of options promised to families under
The Cleveland Plan
, CMSD's blueprint for reform.
The existing Max Hayes, which opened in 1957, is already a popular choice. Enrollment has increased from 400 to 600 in two years.
But the growth is not entirely because of the opportunity to learn a trade. Students, who can take general courses, typically sign up because they perceive the school as safe, their parents went there or it is close to home, Principal Phillip Schwenk said.
"This was the place to go in the '60s, '70s and '80s if you were going to go into the major trades," Schwenk said. "In the 1990s, 2000s, there was a dropoff. Fewer of the kids who go here go into the trades, but that was a national trend."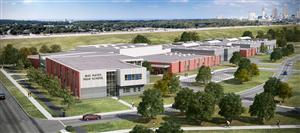 Even if they are interested in trades, many lack the literacy, interpersonal and technology skills required in the sophisticated modern workplace. Though the school's most recent four-year graduation rate was 64 percent, five points higher than District's, ninth-graders often enter several levels behind in reading and math and have to play catch-up.
WIRE-Net, a local manufacturing advocacy group, lobbied long and hard for an overhaul of Max Hayes, agitating on behalf of employers that scrape for skilled, well-paid workers. President and Executive Director John Colm said the revamping is at least 20 years overdue.
"Companies are turning away work -- you can find examples of this -- because they don't have the people to meet demand," he said. "Any company that is at least a little technologically advanced is having trouble finding good people."
WIRE-Net, with support from the Cleveland and George Gund foundations, has led planning for the new school since about late 2009. Colm said that 200 volunteers have logged 1,500 hours and that a delegation toured 12 schools in Ohio and other states to view best practices.
The planners received guidance from
Big Picture Learning
, international consultants who specialize in creating "innovative, personalized learning environments that work in tandem with the real world in their greater community."
The new school, near West 65th Street and Clark Avenue, will be state of the art, but just as important, if not more, will be a change in approach. The vision developed for the school is detailed in a document titled "Take it to the Max," which can be found here.
Max Hayes will keep its four core programs -- manufacturing, building and property maintenance, automotive technology and collision repair, and information technology -- while adding a program that lets students pick a customized "pathway," say, a course of study that focuses on the energy industry. The five areas will also weave in entrepreneurship, environmental sustainability, technology and art and design, so students can craft specialities -- for example, the welding of sculpture.
Academics will intertwine with training in individual plans that students, under close supervision by teachers, are to develop by the end of ninth grade. The objective is to prepare for college, some other postsecondary work and lifelong learning.
Internships and other outside experiences will expose students to the work world and keep the education relevant. Counseling and other support services will help them overcome personal challenges and stay on track until graduation.
A planning committee is beginning to look at how CMSD can market Max Hayes and three other career-tech centers: the Jane Addams Business Careers Center, Washington Park Environmental Studies and Martin Luther King Jr. Campus, made up of the Health Careers Center and Law and Municipal Careers Academy. At all the schools, the District wants to forge a stronger connection with business and industry and better prepare students for college and career through internships, job shadowing and guest speakers, said C. Annette Darby, director of career education.
The transition to a new Max Hayes already has begun under Schwenk, who was hired in 2011 after a national search. He previously worked in Los Angeles for the school system and charter schools but was drawn to Northeast Ohio by a school, a District, a city and a region that he can see are trying to reinvent themselves.
Schwenk, 41, said that the school has started a literacy program and that students have begun to demonstrate significant growth. Max Hayes is close to adding a career-tech honors track, he said.
Teachers also will have to approach school differently, said Schwenk, who has broad authority to pick staff under The Cleveland Plan.
"If you're not teaching entrepreneurship, collaboration, adaptive and critical thinking and those kinds of things, what you're doing is really irrelevant," he said. "This school is trying to go where the work world is moving."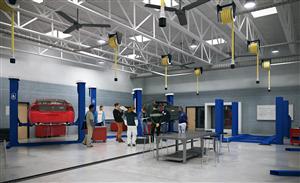 The new two-story, 170,000-square-foot building will accommodate 800 students. Construction is expected to cost $40 million, with the state paying two-thirds of that amount.
The school will have overhead doors for access to shops, glass-enclosed locations that show off mechanical systems and outdoor spaces where students can undertake construction projects and operate heavy equipment. The 13-acre site is more than double the size of the current Max Hayes property.
Race to the Max, which also includes a family fun walk, is scheduled for Sunday, April 6. The event, which is in its second year, raises money for a free three-week summer camp, or "bridge program," that introduces incoming ninth-graders to Max Hayes and typically attracts 75 to 100 children.
The race will start at 8:30 a.m. at Max Hayes, 4600 Detroit Ave., with sign-in starting at 7:30 a.m. For fees and other information, call Hermes Sports and Events at 216-623-9933 or go to hermescleveland.com Registration can be completed online until April 4.