Return to Headlines
CMSD's innovative 'planning centers' provide alternative to punitive in-school suspensions (video)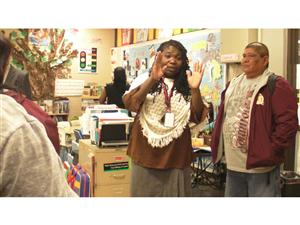 CMSD NEWS BUREAU
4/10/2014
The Navajo educators and parents gathered around Sheila Charles and peppered the instructional assistant with questions about how CMSD's alternative to in-school suspensions works so well.
Charles, a 14-year CMSD employee, is an instructional assistant at the Scranton K-8 School Planning Center in a program built to transform the experience and outcome of in-school suspensions from one that was once strictly punitive to one that is both compassionate and corrective.
She smiled broadly and answered questions from nine visitors from
To'Hajiilee Community School
near Albuquerque, N.M. about the nuts and bolts of a four-year-old program that is getting national notice.
She repeatedly emphasized the importance of building relationships with the students sent to the planning center, whether sent there by a teacher, the principal or even "self-referred." (See video interview with Charles below)
When members of the Navajo school group were asked why they would travel more than 2,000 miles to see three of the Cleveland Metropolitan School District's centers on Wednesday and observe a training session on Thursday, the To'Hajiilee representatives gave answers that were immediate and heartfelt.
"Because we're desperate — we want to keep our kids who get in trouble in school, and the data shows we're not doing that well enough," said Nora Yazzie, a second-grade teacher at the school of about 300 students just west of Albuquerque.
Treina Padilla, who will run a family-oriented center in the community where she also plans to incorporate the ideals from the CMSD planning centers, agreed, adding that the lives of young people are at stake.
"So many of our kids are labeled just because they get a detention, or even more than one detention," Padilla said. "It's like they've got 'The Scarlet Letter' from that point on, and we don't want to stick them with that forever."
Myra Kay, who currently runs the in-school suspensions at the To'Hajiilee school and will coordinate a planning center soon, said she was impressed that students in the Cleveland model get a say in their discipline and corrective action — and that it is culturally sensitive.
"We want to be able to take what we see here in Cleveland, which is working for an urban model, and work in our own cultural values, our Navajo heritage," she said.
The group also visited Patrick Henry and Garrett Morgan schools to see planning centers in action on Wednesday. Today, they were scheduled to attend a monthly training session for aides like Charles.
They came to CMSD after their guidance counselor, asked by a committee seeking change to "pick the model where it is working best, the district that is exemplary. And that was Cleveland," Yazzie said. "So far, we are really impressed."
CMSD began its shift away from in-school suspensions toward what would ultimately result in the planning centers and a
broader program called Humanware
in the wake of the SuccessTech Academy shootings in 2007. A student who had been suspended returned to the high school and wounded two teachers and two other students before killing himself.
That next summer, work groups came up with the broad sketch of the plan and guidelines for the planning centers and their focus on "social-emotional learning."
Today, planning centers are in every one of the district's nearly 100 schools and the program is gaining national attention. Locally, the Warren City Schools have also visited Cleveland to see how the centers work and officials from Streetsboro met with officials to learn more. The centers were
also recently featured on a
WKYC-Channel 3 news report
.
"Cleveland's the best place to be right now; we're kind of leading the charge here and everyone wants to hear about it" said Flexible Content Expert Bill Stencil of the District's Humanware Department, a 38-year educator who led the To'Hajiilee tour. "There may be others doing pockets, but no one else that we know of is doing this districtwide in every one of about 100 schools."
Stencil said the defining difference between old-fashioned suspensions and planning centers is actually simple.
"
The biggest difference is that now we're there to support the student before he or she gets in trouble," said "This was once just a
place they went to because they were in trouble. Now, this is a place to support students, staff and families, and our
PCIAs (planning center instructional assistants) are trained in de-escalation techniques, problem-solving techniques and more."
Stencil said PCIAs get two days of training at the start of each school year and one day a month during the year.
Students don't just come to the come to planning center for emotional and mental health assistance. They also come with classroom assignments to work on so they are not behind when get back into the classroom
"The beauty of this is when it's running well — and some of them are really running well — you come in, you get what you need and you get back to the classroom," Stencil said. "It's not like you spend three days in suspension, although there are times when that may still happen.
But we want you to stay in school and we want you back in the classroom."
That's what drew Racheal Martinez, assistant principal at To'Hajiilee Community School, to Cleveland to watch how the centers work.
"We especially like the continuity of what happens here," Martinez said. "From the classroom to the planning center and to the return to the classroom, there is still instruction going on, as well as the emotional support."
She said the To'Hajiilee school used federal grant money to pay for the cross-country trip but "really stretched the budget" by bringing along five parents.
"It was worth it for us.," she said. "They have very specific concerns, too.
"We think it can work for us," Martinez said. "We see it working here in Cleveland."