Return to Headlines
Robots on the move in CMSD elementary schools (video)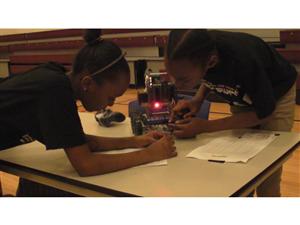 CMSD NEWS BUREAU
4/11/2014
Warning, humans: Robots are hatching a super-secret plot to take over Cleveland city schools.
OK, it's not likely that droids and drones or any other sentient machines are going to actually run amok in District schools any time soon and, no, the plan is not even all that secret.
But there is a growing robotics movement in Cleveland's K-8 schools to go along with the award-winning and vibrant program among some of its high schools. And that's good news for science, technology, engineering and math-minded students.
The machines and their young makers were on full display Thursday at Hannah Gibbons STEM School as more than a dozen students in grades 5-7 took part in the first-ever VEX Robotics Championship. The VEX
Robotics Design System was developed and engineered specifically for school-based competitions, according to its website.
Sixth-graders Antonio Bridget and Reginald Washington won the final battle, defeating sixth-grader Jamiyah Graham and fifth-grader Ronnika Hawkins. (See video highlights of the competition below)
The course, built and paid for by a $4,000 donation from partners Cuyahoga Community College and the Northeast Ohio Sewer District, was a mock-up of an environmental cleanup scenario. Students with hand-held controllers operated the four-wheeled robots through a tunnel and tried to pick up and deposit "toxic" bean bags into a safe zone and then place a small danger sign near the drop-off bin.
"It was to give the idea that if the water was toxic and humans could not go in, they might need a robot to post signs or take tests without human interaction," said Barbara Ottman, a fifth- and sixth-grade teacher at Hannah Gibbons who coordinated the robotics program at the school this year.
Other robotics students and competitors included fifth-graders graders Sheilay'ja Clark, Courtland Farley, Courtney Farley, Brielle Howard, Marquasia Jones and Sha'vonn Meadows; sixth-graders Keion'nee Clark, Jaya Williams and Antawan Young; and seventh-graders Paige Castro and Trinasia Ray.
The students received help from CMSD high school robotics students and a Tri-C student, Ottman said.
"We have three-year goal," said Maxine Jackson, of the the District's office of curriculum and instruction. "This was our pilot, and we'd like to get into a few more schools next year and eventually all of the schools."
That would mean pursuing an ambitious goal of bringing robotics to dozens of schools and a greater need for more money and more community partners, said Nick DiGiorgio, a STEM flexible content expert.
The sewer district has partnered with CMSD high schools in the past but this year responded to a request from Jackson to help out at Hannah Gibbons, said spokeswoman Mardele Cohen. She said NEORSD covered the majority of the cost for the robot kits and construction of the "playing field."
"There were a lot of reasons for us to get involved, including teaching the students about the sewer district, about what we do in relation to not only engineering and technology, but the sewers and the environment," she said. "We hope that in future years, more companies will become partners with other schools and this can grow.
It's really good for everybody involved."
Earlier this year, CMSD high school students from several schools
competed at the Cleveland State University Wolstein Center
in the 13th annual Buckeye Regional FIRST Robotics Competition.
George Bilonkonsky, who is executive director of Tri-C's Technology Academies and coordinates the CMSD Robotics teams, will also take competitors to the FIRST National Championships April 23-26 in St. Louis.
FIRST (For Inspiration and Recognition of Science and Technology) is a NASA program designed to create "accessible, innovative programs that build not only science and technology interests, but also self-confidence, leadership and life skills," according to its web site.
Bilonkonsky formed his first District robotics team at Max S. Hayes High School in 2002 and now has several CMSD schools combined under one banner at Tri-C. His blended CMSD team — with students from MC2STEM, East Tech, Max Hayes and John Adams high schools — and a separate MC2STEM squad competed at CSU.