Return to Headlines
District officers, attendance teams go door-to-door to address high absenteeism (video)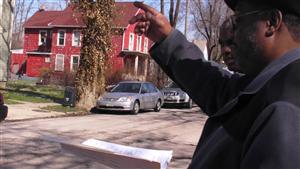 CMSD NEWS BUREAU
4/16/2014

The first three doors that Cleveland Metropolitan School District workers knocked on Wednesday morning illustrated the battle they were waging in trying to improve attendance at District high schools.
At the first, the mother who answered the door at an East 61st Street home told Charles Ausbrook, an attendance liaison for the district, that her son was incarcerated, returned to the Juvenile Detention Center a second time.
New residents said they have been living in the second home, a two-story on East 84th, since December. Attendance officials did not have a forwarding address for the student they were seeking.
A ninth-grade girl and her mother were both home at a housing development off East 104th and Woodland, the third house the team stopped at Wednesday. The mom said she had no idea why her daughter was often showing up for school at 1 p.m., not 9 a.m. when she was supposed to arrive at East Tech.
"I didn't know it was that bad," said Michelle Mattis. "She needs to get an education so she can be successful."
To do that, said CMSD Police Chief Lester Fultz, she needs to be in school regularly.
"The real message here is that kids cannot learn unless they are in school, and I've got to do my part, our part, to get them back into school," Fultz said. "(District CEO) Eric Gordon has said, 'We are all educators,' and while I may not be able to teach a math class, I can help get those kids back into that math class."
Fultz led a small army of Safety and Security officers and attendance officials out into Cleveland's neighborhoods Wednesday, the midpoint of spring break week, to reach out to the families of ninth-graders with attendance problems.
Ausbrook was joined by CMSD officers Mitchell Stewart and Jackey Bivins and Chief Fultz.
Fultz said this initial effort focused on students, predominantly boys, enrolled in high schools at the woeful nexus of high absenteeism, high incidents that require security intervention and low academic performance.
"We lose kids at that point, those boys in the ninth grade," he said. "Some think they're grown-up men, but they are young men who need to be in school to have a chance to succeed. I believe there's a connection between the low-attendance and low performance, but also with the high incidents."
Fultz said the District hopes to make the door-to-door effort twice next school year, in September or October to coincide with the state attendance count that plays such a large role in school funding, and again later in the year.
"This isn't a one-time thing, but we also realize that it's fairly late in the year this first time," Fultz said.
CMSD security officers, representatives from the District attendance office and FACE (Family And Community Engagement) spread out to homes on both the East and West sides of the city Wednesday morning to try to make contact and make parents or caregivers aware of the truancy issue with certain students. They'll be back at it on Thursday morning.
Lorri Hobson, manager of the District attendance office, instructed the teams before they hit the road. The goal over two days: more than a dozen teams of two or three District employees reaching about 200 families of students who have missed 24 to 30 days so far this year.
"These are not the worst, but we picked students who have been sporadic, who may have had suspension issues, but who can still get back into school and do well," she said.
Fultz said he came up with the initiative as a way for his department to try to "move the needle to help our kids succeed."
"It's not to say your child is bad or wrong, but an intervention to say, 'How can we help you?'" Fultz told the teams. "This is the one way we can help them be successful toward graduation."