Return to Headlines
Jane Addams students lauded at Youth Business Institute luncheon by TJX Companies (video)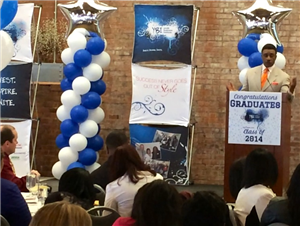 CMSD NEWS BUREAU

4/30/2014
Possible futures unfolded over the course of a four-hour luncheon Tuesday for 29 CMSD students being recognized at the Youth Business Institute Graduation Program at Windows on the River in The Flats.
The institute, sponsored by TJX Companies (TJ Maxx, Home Goods, Marshalls) is a 10-week program for selected students at Jane Addams Business Careers Center in which volunteers from the stores come into the school and work with students on everything from learning to live on a budget to improving their resumes and coming up with appropriate "dress for success" business attire.
The volunteers and students also put together a fashion show following a shopping trip earlier this year, said Steve Davis, YBI program manager and a district loss prevention manager for Marshalls.
"It's an opportunity for us to get involved with students at Jane Addams," Davis said. "It's what we call an enrichment program, really just an introduction to business and to help with their success."
He said the volunteers from the three TJX companies are "people who do this on a day-to-day basis out in the field" so they give the students a real-world view of their future.
The partnership is in its first year in Cleveland, part of an expansion into eight schools in five cities after pilot programs several years ago in two cities. The company spent more than $27,000 and 300 volunteer hours at Jane Addams, school Principal Ann McGee said.
An emotional McGhee said through occasional tears that the program was "so much more than we could have ever expected" and said it complemented her goal to "take academics and apply them to everyday life."
Fox8 News anchor Wayne Dawson, a CMSD graduate, gave the keynote address, cautioning the Jane Addams students to avoid what he called "dreambusters," people who will tell them that they cannot succeed.
"I know that CEO Eric Gordon is very proud of what is going on here today," Dawson said. "This is what partnership is all about. Kudos to TJX for sponsoring this program. This is what corporate partnership is all about."
TJ Maxx Regional Vice President Denise Adams urged the students to seize opportunities for success, but with humility, always understanding the balance between outward confidence and the "anxious feeling in your stomach."
The following students received scholarships from YBI: Ta'Jahnae Buchanan ($5,000); Jaleesa Anderson, Cheyanne Burton, Marjuana Jarman and Angel Worthey-Brooks ($2,000 each). More than half of the students in attendance have also already secured jobs with one of the TJX stores.

All the students were presented with a gift bag that included a gift card, a student portrait mounted on a frame and
other goodies.
The program culminated with Erik Wissa, Senior Community Relations Specialist TJX, who asked parents what they thought about the program. All parents who gave feedback were rewarded with a gift card with an undisclosed amount of money.
The program will continue next year with another 30 students from the Senior and Junior classes. Students will be selected early in the fall of 2014.
Senior graduates were: Jaleesa Anderson, Daja Bedell, Amber Benson, Ta'Jahnae Buchanan, Cheyanne Burton, Daniel Crompton, Maiya Daniels, Latesha Gaines, Marjuana Jaman, Mycah Johnson, Briahna Jordan, Ashleigh Kropp, Andrew Langford, Leonard Martin, Vidorian Massingale, Danaysha Palmore, Demonte Williams, John Williams, Darnell Wimberly and Veronica Woods.
Juniors recognized were Janeva Bridget, Lanaeja Crawford, Jakeitha Hameen, Marcia Ivory, Leah Jackson, Brianna McQueen, La'Mea Westerfield, Courtinea White and Angel Worthey-Brooks.