Return to Headlines
Legislator views samples of CMSD reform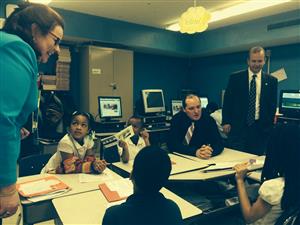 CMSD NEWS BUREAU
5/1/2014
The vice chairman of the Ohio House Education Committee visited Cleveland on Thursday and learned how CMSD is trying to change the District's culture, provide students and families with high-quality options and raise achievement at low performing schools.
Brenner drew criticism after he suggested privatizing struggling schools.
CMSD officials
showed him samples from a portfolio of school options available to parents, regardless of where they live. Schools that rival those in the suburbs, fill niches or follow creative strategies to improve.
Brenner watched as seniors at the
Cleveland School of Science Medicine
signed ceremonial letters of commitment
(read story, see video)
to the colleges and universities they will attend in the fall, including Ivy League institutions.
The school, one of three high performers that make up the John Hay Campus in University Circle, waived dress-code restrictions so the seniors could wear hooded sweatshirts promoting their colleges. Happy parents looked on as class President Kia Holt told her classmates to "wear your hoodie with pride."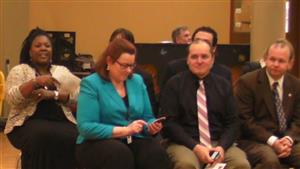 John Hay's schools have admissions requirements, but District Chief Executive Officer Eric Gordon said the students had to keep working to reach this milestone.
"This school is different for one reason -- that reason is you," he told the seniors before they put pen to paper. "You are here today because of what you contribute to your education."
Next, Brenner toured
Washington Park Environmental Studies
, a career-technical center in the Slavic Village neighborhood. The school, equipped with what Principal Donald Strinka says is the largest school greenhouse in Ohio, specializes in horticulture/landscape design and animal science.
Strinka is recruiting students under the increased autonomy that
The Cleveland Plan
, CMSD's sweeping, state-approved blueprint for reform, extends to schools. Washington Park had 180 students as of Thursday, but 215 are enrolled for fall, and Strinka expects to add about 20 more.
Brenner's last stop was
Marion-Sterling PreK-8 School
at East 30 Street and Central Avenue. Marion-Sterling's struggles recently brought designation as one of CMSD's
Investment Schools
. The school is showing signs of progress even before beginning intensive, customized intervention.
Gordon, Brenner and others talked over a box lunch in the Marion-Sterling media center. The gathering included Colleen Grady, a former Strongsville and state school board member who now serves as education policy adviser to the House's Republican majority.
Gordon touched on various reforms under way throughout the District, like the
"wraparound" community services
being provided at Investment Schools.
With assistance from the United Way of Greater Cleveland and other agencies, outside providers are being enlisted to supply tutoring and social services that are tailored to each school and can help children overcome barriers to success. Gordon pointed to medical clinics at Mound K-8 STEM School and Lincoln-West High School, two of 20 that the MetroHealth System expects to eventually open.
Gordon said
The Cleveland Plan
's requirement that parents and caregivers have face-to-face contact with schools drew 70 percent of them to conferences, open houses and meetings in the first year.
He noted that he has scheduled meetings with parents who pushed back against changes in their schools and that an advisory committee of 250 high school students helps him keep tabs on concerns in their buildings.
Grady said she came away with the realization that CMSD is giving culture change and community support as much attention as academics.
The District seems to be making good progress on providing choices for families, Grady said. She said Cleveland also gives evidence that the state should avoid a one-size-fits-all approach in attempting to spread the wraparound concept.
Brenner, who has proposed a framework for wraparound schools, credited CMSD for "trying innovative ways" and for beginning to "take ownership" of its problems.
"They're trying to get the kids engaged, to get the community engaged," he said. "That's what they do in the suburbs. That will turn the schools around."