Return to Headlines
ACE Mentor Program provides students with career insight, scholarships
CMSD NEWS BUREAU
5/6/2014
An industry program has given 120 Cleveland Metropolitan School District students a close look at the fields of architecture, construction and engineering -- and it just may save the world from zombies someday.
The ACE Mentor Program of Cleveland marked the end of the school year Tuesday with a dinner at Windows on the River in The Flats. David Gilbert, president of Positively Cleveland and the Greater Cleveland Sports Commission, was the keynote speaker.
The program provided mentoring during the school year to students from five high schools: James F. Rhodes, Cleveland School of Architecture and Design, Max S. Hayes, New Tech West and New Tech East. Mentors provided the students with career information and took them on visits to construction sites and offices.
On Tuesday, ACE announced 17 scholarships for Cleveland ACE students with a combined value of $109,000. Money for the scholarships came from University Hospitals, the Cleveland Foundation, Cleveland State University, the University of Akron, the Construction Employers Association, Cuyahoga Community College, Geis Companies, Kent State University, Gilbane Building Co., Regency Construction Services and Turner Construction.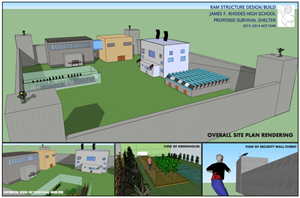 Students also presented projects that they worked on during the year.
Teams responded to a request for proposals dealing with the broad concept of shelter. The Rhodes group submitted plans for a "survival shelter" -- complete with a residence hall, greenhouse and hospital -- that would protect a community from zombies.
ACE is a national program with 64 affiliates covering 200 cities in 40 states, the District of Columbia and Puerto Rico. The Cleveland affiliate, which has volunteers from 47 companies, began working with CMSD in 2008.