Return to Headlines
CMSD mathematicians wage annual numbers battle at John Carroll University (video)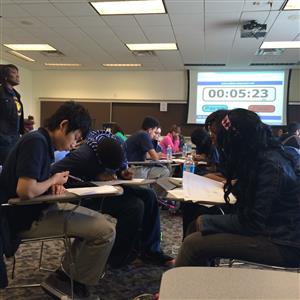 CMSD NEWS BUREAU
5/12/2014
More than 180 CMSD mathematicians from 25 schools pitted their brain power against each other and against the clock Monday at
John Carroll University.
At times, the strain was evident in scrunched up faces, frenetic movement of pencils and button-mashing of scientific calculators. But most of the time, it was just good, wholesome, number-crunching fun.
"We're so happy to have this at JCU, it's a great event for our scholars," said Ovella Roulette-McIntyre, a District mathematics content expert who coordinated the program along with members of the Mathematics and Computer Science Department at the university.
"The reason it even started is that we think mathematics is important, most people do," said Mathematics Professor Douglas Norris, who helped launch the competition – and partnership with CMSD – more than 30 years ago as part of C2ME, the now defunct Cleveland Collaborative for Mathematics Education. That group comprised CMSD teachers, college professors and business and government supporters.
"We wanted to give the Cleveland schools students the opportunity to have a fun day, to see the college and to learn the importance of math," Norris said.
"They also have their eyes opened to the future possibility of a college education and what they need to do to go on to the next level."
That's what happened with Sahar Shouman. Once a wide-eyed CMSD junior high student at Whitney Young on her first college campus, today she is not only a graduate of John Carroll (bachelor's and master's), but a math teacher in the District at
School of One
, the District's innovative school across several campuses. She was the coach for the School of One team from Glenville on Monday.
"I came back to the District to become a mathematics teacher and then was able to coach my own students here and bring them to this university, so that's very satisfying," said Shouman, who stopped often to talk to her students and other students about the problems they had just faced in a previous session.
"This is such a great opportunity to show them that they can have fun doing the math and to encourage them to work in groups. They really get a sense of pride and accomplishment when they work together to solve those problems."
The algebra, geometry and higher math problems are put together by
John Carroll staff, which she said gives the students a higher sense of challenge,
Shouman said
.
Students at the JCU competition on Monday took individual tests (20 short problems), a "mental quickness" test (20 more problems, displayed on screen for only 10 seconds) and a team "Blockbuster" event.
At the team event, the students gathered in clusters of four. Some jotted down a formula, others scratched out numbers on paper or pounded away at a calculator and then debated the answer before handing it off to a JCU volunteer.
The morning competition was followed by an awards program, lunch and a campus tour.
"This math competition also allows us to take some students who may have never even visited a university and show them what could be," Shouman said. "We try to get students to
look at different career options, and math is one of those
portals that teach you various problem-solving skills, especially with the 21st Century focus on technology.
"After all, that's sort of the point of this competition -- to show them all of the skills that they're going to need to be successful in whatever career they choose."
Below are the winners in the various categories:
| | | |
| --- | --- | --- |
| Algebra I – Honors | 1st | Cleveland School of the Arts |
| (Tie) | 2nd | Benjamin Franklin |
| (Tie) | 2nd | Euclid Park |
| | 3rd | Newton D. Baker |
| | | |
| Algebra 1 | 1st | James Ford Rhodes |
| | 2nd | Early College |
| | 3rd | Newton D. Baker |
| | | |
| Geometry | 1st | Early College |
| | 2nd | John F. Kennedy |
| | 3rd | Architecture & Design |
| | | |
| Geometry – Honors | 1st | Science & Medicine |
| | 2nd | John Marshall |
| | 3rd | Cleveland School of the Arts |
| | | |
| Advanced Math | 1st | Cleveland School of the Arts |
| | 2nd | Early College |
| | 3rd | Architecture & Design |