Return to Headlines
William Cullen Bryant students encouraged to keep promises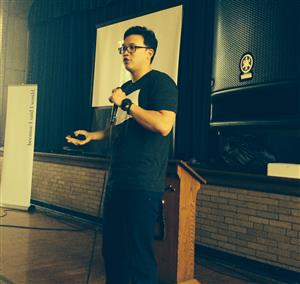 CMSD NEWS BUREAU
5/12/2014
Alex Sheen visited
William Cullen Bryant K-8 School
in Cleveland's Old Brooklyn neighborhood Monday and mesmerized more than 100 teens and preteens with a simple message: You are only as good as your word.
The Lakewood man founded "
because I said I would
," an international movement that encourages people to make and keep promises to better humanity. He launched the crusade after his father, a man who always followed through on his commitments, died of lung cancer in September 2012.
Alex Sheen gained attention by walking 240 miles from Cincinnati to Cleveland in 10 days -- as pledged -- to raise money for freed kidnapping victims Amanda Berry, Gina DeJesus and Michelle Knight. His group also recorded the famous YouTube video in which Columbus-area resident Matthew Cordle confessed and vowed to accept responsibility for killing a man while driving under the influence of alcohol.
"Too often, we point the finger; at some point it comes down to us," Sheen said before CMSD students in grades 6-8 filed into the combination gym and lunchroom. "This world only changes because of human perseverance."
Sheen, who turned 29 last week, quit a job as a corporate strategist at Hyland Software and now speaks across the country in support of his cause. His upcoming engagements include appearances before real estate agents in Florida and critical-care nurses in Denver.
Sheen asks audience members to take 10 "because I said I would" cards, write a promise on each and give the cards to others who will return them when the obligations are met. He said he has circulated more than 1 million cards in 105 countries.
William Cullen Bryant teacher Katie Baltas invited Sheen to speak at the school after passing his Lakewood storefront, looking up "because I said I would" on the Internet and following him on Facebook. Baltas said she doesn't make promises lightly and wanted students to know that "some things are so important, you just do it because you said you would."
The young audience sat in rows on the 84-year-old school's hardwood floor and listened closely as Sheen talked of his father and true-blue fictional superheroes, then lauded the Rev. Martin Luther King Jr. for waging a civil-rights campaign in the face of death threats. Sheen also showed the video of Cordle, culminating in his plea for viewers not to drink and drive.
Afterward, kids surrounded Sheen, partly to snap up "because I said I would" bracelets he had playfully tossed into the crowd but also to share their own life stories and react to the speech. Some told of new commitments, like giving back back to the community or not fighting with a sibling.
One boy said he regretted breaking promises in the past. Sheen encouraged him to start keeping small promises and develop the habit of fulfilling large ones.
A sixth-grader named Marvin said he had already made a promise: to wear his bracelet as a reminder for as long as it fits.

Marvin said he was moved by Sheen's speech, adding: "It wasn't really a tough promise."