Return to Headlines
Facing History New Tech hosts NE Ohio schools at Human Rights Summit (video)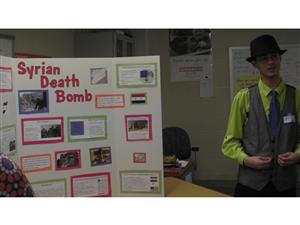 CMSD NEWS BUREAU
5/13/2014
Students at CMSD's Facing History New Tech High School hosted dozens of peers from six Northeast Ohio high schools today for a Human Rights Summit that delved into issues as diverse as LGBT rights in America and forced marriages of children in Malawi.
The summit, the brainchild of FHNT teacher Doug Ramage, was coupled with an afternoon visit and talk given by
Carlotta Walls LaNier
. In 1957, at age 14, she was the youngest member of "The Little Rock Nine," the black students who first integrated Central High School in Little Rock, Ark.
"We have a driving question for the project: 'How can our students raise awareness for human rights issues at both home and abroad?' and that was a perfect fit for the day that Carlotta Walls LaNier was visiting," Ramage said.
"We wanted to reach out to other schools, both the other (New) Tech schools and also urban and suburban schools, so that we were embracing the diversity of the area and getting the word out about human rights issues."
Students milled around the third-floor of the CMSD school for ninth- and 10th-graders, stopping off at dozens of displays put together by Facing History students.
"Human rights are important because you have to know your rights to stand up for yourself," said Gaby Roberts, a sophomore at the Facing History New Tech. "Because a lot of us are younger, I think we're going to have a bigger impact because we're going to help build the future, and we can get started now by being involved and voting."
Gaby and sophomore Karina Morales had a display called "Inhumane Centers," (see video, at right) which focused on the Cambodian practice of taking people convicted of drug crimes and forcing them to work, under threat of physical abuse, in work centers and fields.
"We should all care because their human rights are being violated and we're all one big human family," Karina said. "No human being deserves to be treated that way."
Attending the summit were students from CMSD's New Tech East and New Tech West, as well as students from suburban Magnificat, Laurel School, Cleveland Heights and Lakewood.
The student displays were spread across three rooms. Representatives from The Human Rights Campaign and Equality Ohio spoke to students in a fourth room about various issues.