Return to Headlines
CMSD gospel choir from Franklin D. Roosevelt excels at AmericaSings! in Washington D.C. (video)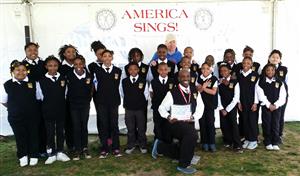 CMSD NEWS BUREAU
5/14/2014
In just under 30 grueling but gratifying hours, the Inspirational Choir at Franklin D. Roosevelt PreK-8 School completed an odyssey that could serve to inspire the entire CMSD nation.
From midnight April 5 through 6 a.m. on April 6, Planning Director Michael Williams and his 25-member school choir:
Drove all night by chartered bus from Cleveland to Washington D.C.

Sang three songs (see video here and below) on the National Mall as part of the 25th annual America Sings Festival

Fed the homeless in the D.C. area with about 2,000 peanut-butter-and-jelly sandwiches they and other students made that day

Donated book bags full of school supplies, some of which they had brought with them

Toured a number of Smithsonian Institute museums and sites

Sang in a nighttime finale group choir with other schools at the event (see second video here)

Visited the Martin Luther King Memorial

And finally j

umped back on the bus by midnight and made the long trip back to Cleveland.
And when, exactly, did anyone sleep?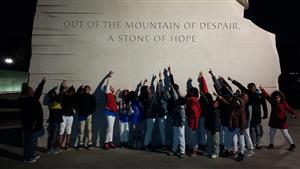 "We stopped at an IHOP on the way back, around 3 a.m., and I think they all were sleeping and eating at the same time — and so was I!" said Williams, laughing. "But it was worth it. They did an awesome job and we're so proud of them."
Williams is director of the Planning Center at FDR, an innovative District alternative to in-school suspension. When he took the job last fall, he asked Principal William Hayes whether he could form an informal choir to sing gospel and other inspirational songs.
"When Mr. Williams told me he was interested in starting a choir at FDR my immediate response was 'When, Where, and what do you need to start now!'" Hayes said. "When he told me about the opportunity for our students to sing in Washington D.C. at America Sings I was ecstatic, so much so that both myself and the assistant principal traveled to see them.
"They were amazing! I am beyond proud of the efforts of Mr. Williams and the FDR Inspirational Choir."
America Sings
is a philanthropic group founded in 1988 by John Jacobson, who envisioned a noncompetitive, outdoor choral festival for students who "could also make a positive difference in their communities and would have a good time doing it!"
Jacobson gave $25 to each of the students attending the D.C. festival, encouraging them to "find a way to use it to change the world," Williams said.
"Then he asked us all to flood his office with the letters telling how we did," he said. "This was so much more than just a concert."
Williams said the school and families of choir members raised about $4,500 for the trip. He said they opted to do it all in just over one day to save the money it would have cost for a hotel.
He said each of the students attending the event, one among many in various cities sponsored by America
"The whole experience — from the singing to the service projects — was great for the students," Williams said. "They love to sing as often as we can."
The choir, a group of students in third through eighth grade who practice on weekdays during the school lunch hour, will also perform at 1:45 p.m. Saturday at the District's big "Rock Your World With STEAM" festival at the Rock and Roll Hall of Fame and Museum and Great Lakes Science Center.