Return to Headlines
Academics, arts shine at 2014 'Rock Your World With STEAM' (video)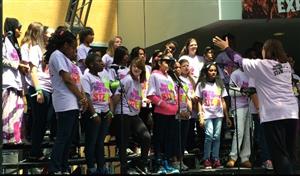 CMSD NEWS BUREAU
5/17/2014
CMSD was rocking and rolling and strutting its stuff -- artistically and academically -- during Saturday's 15th annual "Rock Your World With STEAM" family festival.
Although the day started in an unseasonably cold rain, by midday there was actual steam being cooked up off the pavement by the welcome sunshine outside the Rock and Roll Hall of Fame and Great Lakes Science Center.
"The rain didn't stop us at all, did it?" Tracy Hill, executive director of the District's Family And Community Engagement (FACE) office aksed an appreciative crowd at the Rock Hall as they waited for a sneak peek at the upcoming All-City Arts musical Rent (May 30-June 1 at the Ohio Theater). "We want to welcome all of our fabulous families to this wonderful showcase of your scholars' abilities."
Visitors to the event browsed through the first floor of the Science Center, watching robot battles, learning about environmental initiatives and a multitude of science, technology, engineering and math projects from hundreds of CMSD students.
This year, in coordination with the City of Cleveland's Office of Sustainability, the event was focused on the idea of "Zero Waste."

Outside, kids ran an obstacle course and bashed into tacking dummies as the All-City Drumline rehearsed on the lawn, individual acts played on one of seven different stages and visitors lined up for food as the rain cleared out.
More than 3,000 CMSD students played some role in Rock Your World With STEAM, which is part student performance and part student exhibition.
"Really, it's about the integration, the intersection, of all of those things," said Tony Sias, director of arts education for the District and co-organizer of the program with Hill. "It begins with the integration of the arts and academics, but it includes our families and the public, as well."
Created in 2002 as an arts festival held at the Rock Hall, the event expanded about three years ago, Sias said, to acknowledge the diversity of a broad-based education in Cleveland schools, and because FACE had been holding an annual outreach event on the same weekend.