Return to Headlines
Opening night sneak peek at All-City Musical 'Rent' (video)
CMSD NEWS BUREAU
5/30/2014
Hundreds of hours of rehearsal. Fifteen different CMSD schools. One goal: opening night of the All-City Musical at the Ohio Theatre.
"Rent" features more than 40 District students on stage, not to mention crew members and professionals from the Great Lakes Theatre.
Students say they have formed a musical family throughout the process, and can't believe the big night is finally here.
"We're so close, within these months we've been together from the audition process to actually getting on stage," New Tech senior Brittany Scales said. "Rehearsal process has been so hard, especially being a lead."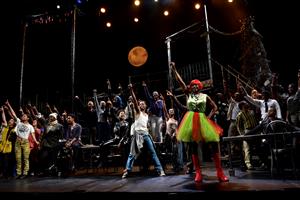 With a range of other ensemble roles, some cast members are taking the stage for the first time, like 12-year-old Jocelyn Stone. She just finished 7th grade at Benjamin Franklin PreK-8 School, making her the youngest person in the show.
"It doesn't matter if you have a small part or a big part, you're all a part of this family," Stone said.
That family extends behind the curtain, too. The action backstage includes professional make-up, costumes, and dressing rooms.
The group performed for hundreds of their student peers during special sneak peek matinees the week leading up to the show, and the reviews were glowing.
"They're really inspiring, I want to do something like that one day," a CMSD 9th grader said.
"Rent" runs May 30-June 1. Tickets are $15 and still available.
Click here for more information
.