Return to Headlines
District sophomores enlist in 'boot camp' to prep for Ohio Graduation Tests (video)
CMSD NEWS BUREAU
6/3/2014
It sure felt like the first week of summer – hot and sticky, brilliant sunshine outside and carefree fun around every corner – but the classrooms inside Jane Addams Career Services Center were packed and active for one of the District's first-ever Ohio Graduation Test "boot camps."
Row after row of students at the near East Side school were diligently going over geometry lessons, studying U.S. government, science principles or literature. Teachers were prowling the aisles, jumping in and helping where needed and coaching students on how to excel on the tests.
The classrooms were similarly packed at John Adams, where more than 200 students were also in class on their summer break. James F. Rhodes (see photo, right) and Lincoln-West collectively drew about 140 more students, District officials said.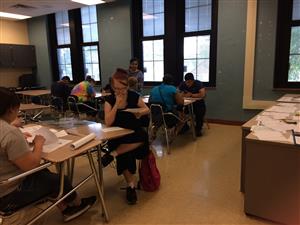 "For this kind of turnout, on the first week of their break, is really encouraging," said Desiree Powell, a content expert who is co-directing the new camps with Kate Schwab of the District's Career Tech Department.
The boot camps, being held at only the four CMSD high schools over the next two weeks, are teacher-led study programs available to CMSD students who are preparing for the standardized Ohio tests that will be given later this month. The camps were created this year to give District students one more boost toward passing the tests, a requirement for graduation.
Initially, students were told they would have to
complete boot camp to qualify to take the OGT, which will be given June 16-20, with a different subject tested each day. But a delay in notifying the students meant dropping that requirement, Powell said. Students are still expected to attend at least two days among the nine options offered but will not be prevented from taking the test if they do not attend a boot camp.
"Which makes the response even greater," Powell said. "Kate and I personally called or emailed every student this past weekend who had signed up for these boot camps and were were amazed at how cordial and grateful they were for the contact. I really think this will mean we get a very large number of CMSD students taking all or a portion of the tests this year."
The camps are being held at the same four CMSD schools where students in grades 9-12 can make up missing credits by attending summer school. The boot camp sessions go from 9 a.m.-12 noon each day through June 13, while summer school is from 8:50-2:10 daily through July 11.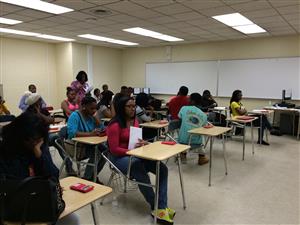 The swell of students at Jane Addams (photo, right) didn't take Summer School Principal Elaine Gollate by surprise, but it did keep her running -- photocopying papers for her teachers, helping check in students arriving late and tracking the total number, which was nearing 250 by mid-morning.
"That's a big number and that should say something about what the need is," said Gollate, who is an assistant principal at the school during the regular school year. "We're here to help our students succeed. If they don't, then we don't."
Gollate said there were students at Jane Addams from many other CMSD schools. She said the OGT prep is especially important in an urban district like Cleveland, where she said many students may not have computers or the internet at home so they don't have easy access to online practice tests.
"We have five excellent teachers here this week to help them," she said. "We really do care about our students, and the expectations are very high. We want them to know that – that the bottom line is we want them to succeed."
A smaller, but just as determined, group of students were into their second morning session at James F. Rhodes High on Tuesday following a mid-morning lunch break.
Venescia Colon, Joyce Rivera and Ronell Ames, who just completed their sophomore years, were taking a walk before their next class and talking about their morning sessons.
"It helped a lot, I think," said Venescia, who had just finished a social studies class. "We focused a lot on the Constitution and how laws are made. I knew a lot, but it also refreshed my memory so I'll be ready for the tests."
Joyce said she needed extra help in geometry. She had planned on coming to only two of the nine days of classes, but school Principal Ken Robinson was trying to talk her into coming for more sessions.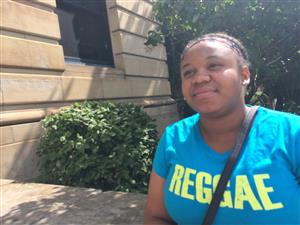 "C'mon! What else have you got to do?" Robinson said. "This is going to help a lot." Joyce said she'd think about it.
Ronell (photo, right) said she knows she needs to pass the OGT to graduate and said she will do as much extra work as possible.
"My mother didn't graduate on time because she was pregnant with me, so I want to do it for her," she said.
"But I also want to be a cartoonist. I'd like to work for Disney, so I know I need an education for that, and this is one step in making sure I get that education in high school and then college."